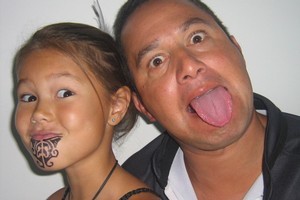 A former Kiwi police officer has been disciplined for taking part in a flash mob haka while on duty at a shopping mall in Australia.
Gold Coast senior constable Rangi Joseph, 38, was one of hundreds of Kiwis who performed the traditional Maori war dance at the Surfer's Paradise Cavill Mall on September 11 to mark the anniversary of 9/11 in front of thousands of whooping onlookers.
The former iwi liaison officer with the Wellington police became an internet sensation after videos posted on YouTube showed him sidling into the action then joining the mass haka in police uniform. One video has had more than 63,000 hits and dozens of comments praising Joseph's involvement.
"The fact it has gone viral, you don't expect that kind of thing," Joseph told the Herald on Sunday.
"It was a huge surprise. I wasn't there to get myself on YouTube or anything like that."
He said he received a phone call on Friday from his superior saying he needed managerial guidance as a result of a police investigation.
"I respect my managers and if they have to go about an investigation like that then so be it. If I have to be disciplined for something and they think I've breached the guidelines then I'll take that on the chin. I think it's a good thing that I engaged with the community; all I've had is support, even people I don't know ringing me," Joseph said.
He said he had informed his boss prior to the event that he would join in while policing the area with other officers.
"It was part of my duties so I rang up the offices and said I would go down to make sure everything was okay. But when it was happening ... I joined in. "
Thousands of Kiwis are stunning people with flash mob haka events around the world, even though some Maori say it's mocking their culture.
The flash mob haka is a secretly organised event, where lots of people unexpectedly perform the traditional war dance, and has become a new internet sensation.
Videos of flash mob haka events, which have taken place in New Zealand, Australia and even Spain, have been posted on YouTube.