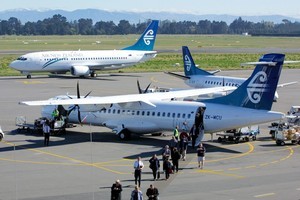 What is the quickest way to get passengers on and off a plane? Air New Zealand thinks it may have the answer.
People sitting in window seats now go first on Air New Zealand domestic flights, which means no more squeezing past those in the middle and aisle seats when boarding.
Marie Hosking, of Air New Zealand, said the window-seat-first method was adopted after a series of trials. "This means we now invite customers in window seats, and their travelling companions, to board first. This is followed by a general boarding call," Hosking said.
She said a domestic jet spent about half an hour on the ground; this included arriving and disembarking, cleaning and re-stocking, fuelling and boarding the next group. "The benefit for passengers from the new style of boarding is that there is less congestion in the aisle and less time spent queuing to get to their allocated seat."
It may seem like common sense but the Air New Zealand system, which became common practice in November last year, is similar to a complex mathematical algorithm method devised by American scientist Jason Steffen.
The method, now referred to as the Steffen Method, seats window passengers on one side and at the back of the plane first, followed by the other side, followed by the middle then aisle seats.
Fellow New Zealand domestic carrier Jetstar said it was always looking at improving processes for passengers, especially aimed at getting flights away on time.
Jetstar has looked at all methods - including the window-seat-first method - but uses "dual door boarding" with front and back doors used to board and disembark.
"We found this method saves around three to four minutes in boarding time compared with single door boarding by reducing congestion in the aisles," said Andrew McGinnes of Jetstar.