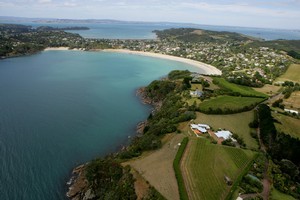 Wealthy Aucklanders are pricing Waiheke Island out of the reach of local permanent residents, threatening the haven's population growth.
Rodney Dickens, economist of Strategic Risk Analysis, found most real estate deals were done by locals, yet the section and housing market was pitched more towards holidaymakers - dominated by rich city dwellers - so sales were suffering.
Waiheke was highly desirable but high asking prices kept deal numbers down because locals could not afford the prices being asked and even would-be bach buyers are balking.
"There is good reason to suspect that the continued low level of section sales reflects, to a significant extent, asking prices for sections being out of line with what would-be permanent residents can afford, as well as them being high compared to what would-be holiday homeowners can afford or are wiling to pay.
"It is likely that Waiheke Island has to a large extent priced itself out of the market for population growth.
There are good reasons why Waiheke Island median prices can be above the national average (such as expensive holiday homes that are bought by wealthy Aucklanders, sea views, climate, environment, and so on). But when the median asking price excluding all properties with asking prices above $800,000 is 25 per cent above the national average house price, it seems reasonable to conclude that Waiheke Island has a housing affordability problem that will limit future population growth," he said.
Holding their land was costing section sellers 5 per cent annually in lost opportunity costs so they would be better to discount by 10 per cent rather than waiting for two years to get today's asking price.
Some Islanders were motivated and dropped their prices significantly, sometimes below CVs, but the two most popular price brackets on the island were $300,000 to $500,000 and $1m to $2m.
Mr Dickens compared Waiheke to Akaroa near Christchurch, where extensive efforts were made to stop development and protect the environment and scenery, but affordability was constrained.
"Lower paid workers and many of the children of the current residents were being priced out of the market," he said of the Canterbury township.
"It is simple economics - if you limit supply in places where people want to live or have holiday homes, prices will increase and an affordability problem will develop."
He said the consequences of an affordability problem were slower population growth and an increasingly elitist population.
"Home ownership will increasingly be the domain of the small group of wealthier people who want to live or have holiday homes in the likes of Akaroa and Waiheke Island. It will be interesting to see whether defenders of the environment against development like the social engineering their successes will cause - creating more exclusive housing markets."
Waiheke people were better educated than other Aucklanders but poorer. Their median annual income was $23,500, 12 per cent below the Auckland region's median $26,800.