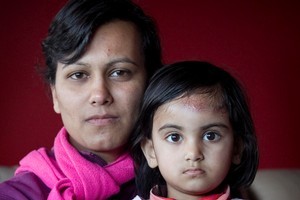 A woman who was dragged from her car by a youth fleeing police has spoken of her struggle to get her toddler out of the back seat as the fugitive started to drive away.
Nikhat Ibnul is haunted by the moment the teenager rammed her car onto the footpath, hauled her out and tried to take off with daughter Zuhaira, 2, strapped in her car seat.
"I will always remember ... I just want to forget but it keeps coming into my mind. I will hear the sound of him smashing into my car forever ... My baby girl's crying," she said.
Mrs Ibnul, from Hillsborough, was on her way to the Baby Factory to buy a present for her nephew when the car with the youth behind the wheel slammed into her vehicle.
The unemployed 19-year-old driver was allegedly fleeing police on Thursday morning after crashing into a fence in South Auckland in a stolen Honda Prelude.
He travelled along the Southwestern Motorway, before heading through suburbs to New Lynn.
Police managed to spike the Honda's tyres in Blockhouse Bay, but moments later it collided with Mrs Ibnul. The youth then pulled Mrs Ibnul from her Toyota.
"He hit me quite hard. He smashed into me and the front of my car went onto the footpath. The brakes wouldn't work, I was trying to avoid a pole and some trees. Then I just pulled the handbrake.
"All of a sudden I saw him getting out of the car and running towards me. As soon as I saw that I knew something was wrong so I locked my door. I was reaching behind me to lock Zuhaira's door but he was too quick and he opened it.
"Zuhaira started crying as soon as she saw him running ... She was crying and crying."
She said the teenager reached through and unlocked her door and ordered her out of the car.
"All he said was, 'Get out of the car'. He had a hard voice. Then he just grabbed my arm and pulled me out. I fell and when I looked up he was in the driver's seat trying to start the car.
"I was really scared. But I wasn't going to let him take her. He could take my car, but he wasn't going to take my baby. The only thing I could hear was my little one crying in the back."
Mrs Ibnul jumped up and opened the back door. She already knew she did not have time to get Zuhaira out of her seat.
"I quickly undid the seatbelt that holds the car seat in. I just grabbed the whole seat and pulled and pulled.
"I gave one big pull, and that's when he drove off."
Mrs Ibnul got her daughter free and the pair went flying backwards onto the middle of the road, landing metres apart.
"Zuhaira landed on her head in the middle of the road. She was still in her car seat; it was upside down. All I could hear was her crying, I couldn't see her. I just got up and ran to her.
"I unbuckled her and picked her up and I just held her. She was crying, I was crying."
Zuhaira suffered a nasty graze to her forehead from landing on the road, but was otherwise unhurt. Mrs Ibnul wrenched her arm pulling the car seat.
Her car travelled a short distance before crashing into a ute.
The fleeing driver was arrested seconds later and appeared in the Auckland District Court yesterday on six charges including failing to stop, robbing Mrs Ibnul, injuring Zuhaira and reckless driving.
The youth, from Kaikohe, was remanded in custody until his next court date.
"I saw photos of the crash on the internet later. The only thing I could think was that if Zuhaira was still in the back ..." said Mrs Ibnul.
"There is no way she would have survived. If I hadn't pulled her seat hard enough, he would have [driven] off with her hanging halfway out of the car onto the road.
"It happened so fast. He could have taken my little girl ... But she's here. I'm here. We're both safe."
Mrs Ibnul and Zuhaira were recovering at home yesterday, but were still traumatised by the car-jacking.
"I didn't sleep. It just kept coming back into my head.
"Zuhaira didn't sleep well either. She doesn't like us talking about it. She just calls him 'the bad man'."
Mrs Ibnul wanted to thank the people who came to help her, including a man who got out of his own car to chase the fleeing driver.
"Then he came back with his lunch and gave us water and a muesli bar. Other people were trying to see if we were okay. And the police were very good. I just want to thank everyone who helped."