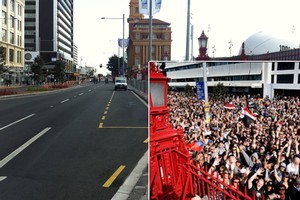 Aucklanders left it until kick-off between the All Blacks and Japan to start streaming into Party Central tonight.
However the figure of 7300 at 7.50pm - boosted to 11,000 by halftime - was a fraction of the 200,000 who swamped downtown Auckland for last Friday night's opening celebrations for the Rugby World Cup.
This time around there were more security staff and a more visible police presence, as well as a more orderly queuing system on Queens Wharf, which holds 12,000 people.
The evening was windy and cold, unlike the fine weather last Friday. Heaters in Shed 10 at the Heineken World Bar, a DJ and a good crowd created the biggest buzz of the night.
Quay St, closed to traffic for the weekend, was virtually empty of people and Captain Cook Wharf, which the Government took control of on Tuesday for any overspill, was deserted. There were only two security guards in high visibility jackets keeping a vigil.
Bars and restaurants in the CBD and Viaduct Harbour resembled a normal Friday night, not the melee of last Friday.
Peter Winder, from the Ministry of Economic Development, said there was a vibrant atmosphere on Queens Wharf.
About 100 extra security workers were employed this weekend, taking the total to 300. There was also a more visible police presence.
Those at Party Central rocked to the hip-hop sounds of Che-Fu but it remained a subdued occasion compared with last week.
The absence of Tongan fans left a big hole. Last week the streets were lined with red; this week nothing. There was no shouting or banter, no flags or costumes. And there was room in front of the two 17m by 4m screens in the Cloud.
Aucklander John Lee said last Friday was "absolute chaos".
"Last Friday we went home; tonight is better but there's fewer people. It's quite good."
Brett Mitchell, of Mission Bay, was not sure whether he wanted to stick around for another night after a bad experience last Friday.
"Last week we were on Quay St and we couldn't move. [This week] it's dead. We're going to make the decision about what we do soon," he said.
With no seating or shelter on Captain Cook Wharf, it would have been a bitterly cold and windy venue for any fans spilling over from the relative comfort of Queens Wharf.
In preparation for a crowd, two large television screens had been set up on the wharf as well as 100 Portaloos, a handful of food stalls, fencing around the perimeter and additional lighting.
Alcohol was unavailable because the Rugby World Cup 2011 Auckland Management Committee was not geared up for it.
A liquor licence was expected to be in place for next weekend.
The wharf will be available on Friday, Saturday and Sunday for the rest of the tournament.