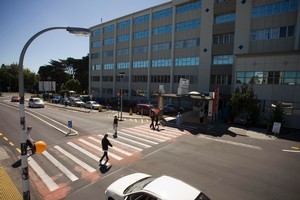 Officials at Middlemore Hospital are considering increasing security after a woman was sexually violated outside on Wednesday.
The 33-year-old woman had been visiting a friend at the south Auckland hospital when she went outside to have a cigarette at about 6.30pm.
She was approached by an unknown man who sexually assaulted her, police said in a statement.
Detective Sergeant Andy Townsend praised the actions of six teenagers who went to the distressed woman's aid as they got off a train nearby.
"These young men did an absolutely incredible job of comforting the victim. They handled what was a difficult situation in a very mature, responsible and empathetic way.''
Hospital spokeswoman Lauren Young said they were considering increasing the presence of security guards at the hospital following the attack.
They were also looking at whether more lighting was needed towards the edges of the hospital grounds, where the sexual assault took place.
Ms Young said the attack was "extremely concerning''.
"We really, really hope that this perpetrator is caught quickly.''
The attacker was described as a young Polynesian wearing a grey Adidas hoodie and a black beanie with a red eagle on it. He may sustained facial injuries during the attack.
A grey Honda Odyssey sporting a Tongan flag was seen in the area at the time and police appealing for the driver to contact them.
Meanwhile, a daylight attack in which a woman was held at knifepoint north of Wellington has sparked fears of a serial sex attacker in the area.
The 25-year-old woman was grabbed by the hair and threatened with a 12cm blade by a bandanna-wearing man as she was walking in Petone about 5.30pm on Wednesday.
She was left shaken but unhurt after screaming and managing to pull away from the man.
Police investigating the assault are not ruling out links with two similar attacks in the same area in April and May, or two recent indecent assaults on young women around Naenae in the last six weeks.
Detective Senior Sergeant Paul Borrell of Lower Hutt said there was a risk the latest attack was sexually motivated and police were working hard to identify and track down the offender.
Police had been overwhelmed by the response from the public and yesterday (Thursday) spoke to a number of witnesses.
"This critical information has assisted us hugely in locating several articles including a hooded sweatshirt. We are still searching for a pink cellphone thought to be discarded by this man in the vicinity of the Ava rail bridge,'' Mr Borrell said.
The offender was described as a tall Pacific Islander or Maori in his early 20s with a solid athletic build. He was wearing sunglasses, a baggy hooded sweatshirt, black baggy pants and skate-style shoes.
Wellington police are also investigating a separate alleged sex attack in Manners St yesterday morning.
Police said the woman in her 40s was attacked at the public toilets in Te Aro Park about 6.30am.
A scene examination was completed yesterday and police were keen to hear from anyone in the area between 6.30am and 6.45am yesterday.
Anyone with information about the hospital attack should contact Detective Sergeant Andy Townsend on 09 353 0023 or call Crimestoppers anonymously on 0800 555 111
- APNZ / NZ Herald Online