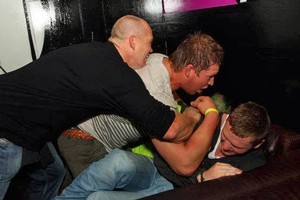 The English Rugby Union and a Queenstown bar have poured cold water over reports newly-wed England rugby captain Mike Tindall was caught with his head in the cleavage of a "gorgeous blonde" while enjoying a "dwarf-throwing competition" in Queenstown on Sunday.
English tabloid The Sun reported Tindall, 30, who married royal Zara Phillips six weeks ago, had joined teammates Dan Cole, Steve Thompson, Louis Deacon, Ben Foden, Shontayne Hape, Toby Flood, Tom Croft, Lewis Moody and Nick Easter to celebrate the team's 13-9 win over Argentina in the opening round of the Rugby World Cup, the night before.
The Sun reports the group were relaxing by "watching a light-hearted dwarf-throwing competition", at the Altitude Bar in the resort town, when "scores of women made a beeline for the strapping lads".
A source told the paper: "One particularly beautiful blonde went straight for Mike. But rather than reject her advances, unfortunately he was extremely responsive.
"They were flirting with each other and getting very touchy-feely. Then they went into the doorway, where the girl gestured Mike towards her chest.
"She pulled his head towards her breasts and she rubbed the back of his head as she did so."
Following the publication of the Sun article, an England team spokesperson said: "Mike and several of the players were enjoying an evening out after he had led the team to a hard-earned victory over Argentina. Like all the lads he plays for England with a massive amount of passion and he was relaxing after a tough match."
Bar manager Rich Deane has also downplayed the report, saying on the bar's Facebook page that there was no dwarf throwing
"There was no scandal by any of the English Rugby Players that we saw! They were great lads, not throwing the midgets, it was all light hearted good humored fun! This is the tabloids taking photos out of context and telling silly stories. "
Do you know the blonde who got up close and personal with the English rugby captain? Email: newsdesk@nzherald.co.nz
- HERALD ONLINE