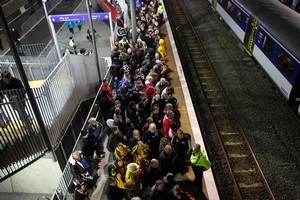 The head of Auckland's train network has urged Rugby World Cup fans to take buses in future.
Veolia head Graham Sibery told NewstalkZB today it was the only way to stop overloading the rail network again.
There was chaos on Auckland's trains last Friday when more people than expected tried to use the trains to get to Party Central in downtown Auckland and to the RWC opening ceremony and match at Eden Park.
The public had been urged to take public transport to get to those events and the train network was completely overwhelmed.
Another 100 buses are being made available in case too many people turn up for the Australia v Ireland match on Saturday at Eden Park.
"If the same number of people got on to the train network and the same volumes on to the trains, we would struggle again," Mr Sibery said today.
"It cannot cope with those volumes."
Auckland has a finite number of trains.
Mr Sibery said there had been an agreed plan for last Friday that included contingencies but the number of people was unprecedented and unexpected.
The Auckland Council says it will cost up to $60,000 to compensate fans who missed the Rugby World Cup's opening due to the public transport problems.
Fans who arrived late for the opening ceremony and part of the match are likely to be offered a ticket to an All Black quarter-final, and those who missed the entire match could be given a ticket to a (possible) All Black semi-final.
The Auckland Council's accountability and performance committee yesterday considered three reports on Friday night's chaos.
Compensation was one of a number of recommendations to the litany of problems caused by overcrowding on Queens Wharf and train delays at Britomart station.
The reports praised the match, the opening ceremony and the enthusiasm shown by New Zealanders and visitors.
But they were scathing of the transport breakdown: "On transport the disappointment was after three years of planning, a very successful final Bledisloe Cup run through and some agreed actions coming out of the Bledisloe work, we experienced failures."
- APNZ