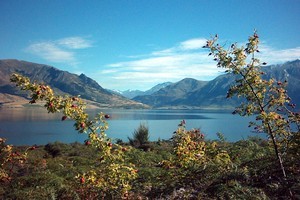 The Lake Hawea community will hold a memorial ceremony and whaka noa (a Maori blessing) at 11am today for missing German kayaker Rene Weisswange, 25, who is presumed drowned.
The service at the Lake Hawea boat ramp will be led by Michelle Cotter, while Jeromy van Riel will conduct the traditional whaka noa held when someone goes missing in a body of water.
Mr Weisswange had set out on his kayak journey from the boat ramp on Monday August 29.
Despite extensive searching, he has not been found. His borrowed kayak and broken paddle were found washed up on the shore beneath the village on Wednesday August 31.
Lake Hawea resident Liz Matheson has helped to co-ordinate the ceremony.
"Rene was only in the town for a short time but he was becoming known and was liked. He was a smiley young man," Mrs Matheson said.
Wanaka Constable Emma Fleming said yesterday Mr Weisswange's disappearance had been referred to the coroner but police were continuing with inquiries and the search, which is in a scaled-down phase.
His family had been made aware of the service, she said.

- APNZ