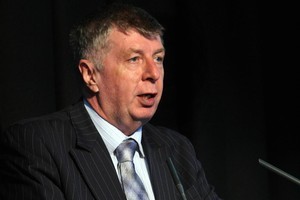 Maurice Williamson has been fingered as the most likely suspect as "Minister of Bad Manners" - but there are questions about whether the Australians supposedly offended by his behaviour were simply thin-skinned.
The Sydney Morning Herald reported that in the VIP area during Sunday's Rugby World Cup game between the Wallabies and Italy, a minister of the Crown had offended Australian officials by booing throughout the match.
The journalist who wrote the story insists it is "gospel, not gossip".
However, others in the VIP area that night have spoken up, some saying they noticed nothing and others saying that while Mr Williamson was a boisterous spectator who clearly supported Italy over the Wallabies, he was not offensive.
Mr Williamson avoided the media yesterday, but on Tuesday he denied he had misbehaved or said anything offensive.
Yesterday, National Distribution Union secretary Robert Reid told RadioLive he sat behind Mr Williamson and had not heard him swear.
"But he certainly was getting very excited ... He was punctuating his comments by pointing his finger at Aussie players and at the ref when decisions went the wrong way."
Mr Reid said Mr Williamson had also booed at points, but so had he. He was not a fan of the minister, but his behaviour was part of the general atmosphere in the box.
He said the Australians nearby "were not very happy-looking people ... but I think that was probably [due to] the scoreline at that point as well".
A spokesman for Len Brown said the mayor knew who the minister in question was but would not name him and had laughed about his actions.
A spokesman for Australian High Commissioner Paul O'Sullivan, who was in the VIP box, said he had not noticed anything so had little to say.
Mr Williamson was one of three ministers in the VIP area. Other guests included Australian Rugby Union officials, Mayor Brown, ex-Wallaby Phil Jones and Italy's ambassador.
The other two ministers were Wayne Mapp and Jonathan Coleman, who both said they did not notice any bad behaviour.