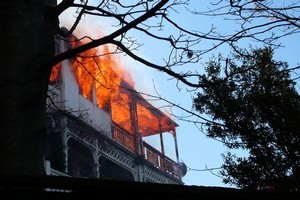 About 40 firefighters battled to keep a huge central Wellington house fire from spreading to surrounding houses this afternoon.
Fire Services Wellington communications centre shift manager David Meikle said the blaze, at 1 Allenby Terrace, broke out about 2pm but was under control within an hour.
Ten fire appliances carrying about 40 firefighters attended as it was in a built up area, with neighbouring houses close by.
"The first focus is to save any lives and make sure there is nobody in it but also to protect the surrounding properties and stop it spreading,'' he told APNZ.
"I'm sure the crews that were there would be pleased that it didn't spread beyond the one property.''
The house was understood to be abandoned, although it was frequented by homeless people.
Part of The Terrace was closed while the blaze was brought under control.
The wooden, three-storey, eight-bedroom, three-bathroom house has a 2009 capital value of $670,000.
- APNZ