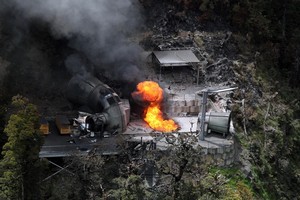 Police have been questioned on their refusal to hand over responsibility for incident control at the explosion-hit Pike River mine to a mining expert.
Assistant police commissioner Grant Nicholls is under cross-examination at a Royal Commission of Inquiry into the deaths of 29 men in the Pike River mine this morning.
Commissioner Stewart Bell said incident control at the scene of a mine disaster was handed over experts in other countries including Australia and the US.
He said he was "surprised" at police refusal to transfer incident control from Superintendent Gary Knowles to one of the "many" local mining experts available.
"How much time was wasted... training police officers... in mining matters when you could have had someone there from the word go that understood the terminology from the word go."
Mr Nicholls initially said incident control would not be relinquished by police in any future incident.
However, he later conceded more involvement by mining experts could be explored.
Mr Bell also questioned whether a Wellington "panel of experts" comprised of personnel from agencies including the Fire Service were second guessing advice and decisions by local mining experts at Pike River.
Mr Nicholls said the panel was giving supplementary advice on the information being offered from the site of the West Coast mine.
"The panel, in my view, didn't second guess. They provided a necessary contribution at another level."
Earlier, it was revealed police could have learned lessons on how to deal with the families of the victims of the Pike River disaster from their handling of the 1995 Cave Creek disaster, an inquiry has hard.
Royal Commission counsel James Wilding pointed Mr Nicholls to a report made in the aftermath of the Cave Creek tragedy, where 14 people died in the collapse of a West Coast viewing platform.
It recommended the immediate appointment of a liaison officer to give timely information to victims' families in disaster situations.
Mr Nicholls said police had a victims' advisor at a national level and had capacity for a family liaison in their Disaster Victims Identification units.
He said the response to the Pike River disaster was a challenging operation with no blue print on how to deal with families of potential victims.
Families of the Pike River dead have criticised the way police handled communication during the disaster.
It culminated when they clapped at news of earlier plans to enter the Pike River mine before being informed their loved ones had died in a massive explosion on November 24.
Commission chairman Justice Graham Panckhurst questioned the chain of command at the Pike River scene.
Nearly every key decision on the rescue and recovery operation at the mine was diverted to police national headquarters.
Mr Panckhurst said that put the centre of incident control at Pike River "effectively" in Wellington rather than in Greymouth under the command of Superintendent Gary Knowles.
"Superintendent Knowles was neither one thing or the other. He didn't have responsibility any more to make any of these significant decisions."
Mr Nicholls said changes would be made to decision making structures if police had to deal with another disaster like Pike River.