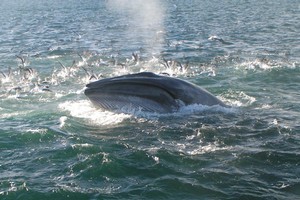 A 12m whale weighing 15-20 tonnes probably died after being hit by a ship, experts say.
The Bryde's whale was found dead in Hauraki Gulf on Friday after a Great Barrier Air pilot spotted it and phoned the Department of Conservation (DOC).
It was towed to Coromandel Peninsula for an autopsy.
DOC, University of Auckland and Massey University representatives travelled to Port Jackson on Monday to help perform the necropsy, or animal autopsy, on the whale.
The mammal was covered in injuries along half the length of its body, Massey University veterinary pathologist Rob Chappell said.
"It was clear that the whale had severe trauma, running all the way from the rib cage to near the tail of the whale; so it was most likely to be a large vessel that caused these lethal injuries."
The whale suffered from ruptured intestines, 15 fractured vertebrae, broken ribs and extensive bruising.
Necropsies aren't normally conducted on whales but it showed how important the death of this whale was, Auckland University marine mammal scientist Rochelle Constantine said.
The death was a warning for boaters and freighters to take more care for the whales and sea life that lived just below the water's surface, she said.
"For most of the large ships, there are about 1800 ship visits to the Port of Auckland every year. Most have a draught of underwater of anywhere up to 12m. So if the whales are spending most of their time in 10m or less but still below the surface of the water but you can't see them, it explains why they're vulnerable."
She said the relatively small population of Bryde's whales had a high mortality rate from vessel strike. There had been further cases of whales with propeller injuries from smaller vessels as well, she said.
Auckland University research shows 40 Bryde's whales have been found dead in the region over the last 16 years, and 14 of 17 known deaths were caused by being hit by a ship.
Dr Constantine suggested a lower speed for vessels, making sure skippers kept an eye out for whales, and she urged them to keep a consistent route so whales could have a chance.
"We just need to be a bit more respectful of marine life in general."
The whale was buried close to where it was examined in Port Jackson.
Dr Constantine and colleague Dr Natacha Aguilar are researching why the whales are so vulnerable by using tag technology.
The tags track the movement and depth of the whale and monitors how they react to ships and noises, and should provide some insight into the Bryde's species and their lifetimes.

- APNZ