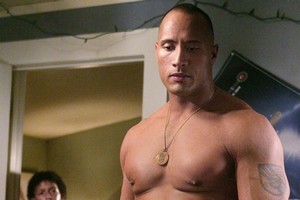 The Samoan community is getting set to cheer their team in its first match - and they have support from a Hollywood star as well.
The country's national team, Manu Samoa, will take on Namibia this afternoon in Rotorua.
And The Rock - aka Dwayne Johnson, formerly of Auckland - has declared his support for Manu Samoa via Twitter.
On Saturday he wrote: "Rugby World Cup: All Blacks & Manu Samoa. Ia manuia ma fa'amalo atu. Alofa fa'asamoa!"
The message congratulates both the All Blacks and Samoan teams and wishes them good luck for the tournament. He signs off with "Samoan love".
The 39-year-old is famous for being a former professional WWE wrestler, following in the footsteps of his African-American father, Rocky Johnson, and grandfather, Samoan Peter Maivia.
Johnson, who's mother is Samoan, holds one of the island nation's top chiefly titles, Seiuli, and has always been vocal about being proud of his island heritage.
As a youngster he lived in Auckland with his parents and attended Richmond Rd Primary School, in Grey Lynn, for a short time.
Already Samoan fans have been showing off their true colours in Auckland, with flags popping up on cars and homes - although possibly not as many as Tongan supporters mustered.
Many in the community are hoping that today's match is a smooth transition into the tournament, in which the team has become a favourite after their win against the Wallabies in July.
The Manu Samoa Supporters Club, which was set up this year, has organised various events during the tournament in support of the team.
That includes hiring the TelstraClear Pacific Events Centre in Manukau City, south of Auckland, for each Manu Samoa game.
Thousands of supporters and fans will be able to watch every game on a big screen, live, for free, from today. Parking is also free.
Chairman To'alepai Lui Tautolo said the committee had fundraised and found sponsors to help it hire out the venue in a bid to give back to the community.
"We planned this right from the beginning because we know the tickets are expensive.
"We had a lot of people say that they couldn't afford the tickets and they don't have Sky [Television]. So that's why we did this, to get all the community together in one place to watch and support the Manu."
The doors will open at 12.30pm, although Mr Tautolo said past events involving Manu Samoa suggested a capacity crowd would be waiting by midday.
Meanwhile, other fans have gone on Facebook to advertise flash mobs of siva tau - the team's haka - taking place in various parts of the country.
Among those are three locations in Auckland - Queen St outside Britomart, Massey Rd in Mangere and outside the Westcity Westfield mall in Henderson, in West Auckland, all at 12.30pm.
The Grey Lynn Business Association, which has adopted Manu Samoa under the Auckland Council's Adopt-A-team scheme, will also be showing the game live today at the local Returned Services Club.