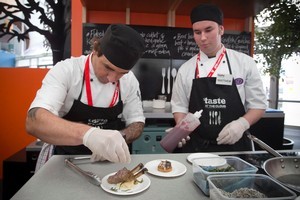 New Zealand chefs and food and drink producers are keen to show international visitors that the country's palate is far wider than steak and white wine.
The Taste at the Cloud festival began yesterday on Queens Wharf, and has an emphasis on innovative, high-quality New Zealand cuisine.
New Zealand Trade and Enterprise operations manager Mark Roxburgh said the festival would accentuate the diversity of local flavours, from fresh oysters to fusion food from the Pacific Rim.
"The world knows we have milk powder, sauvignon blanc, top quality lamb. But we want to wow them with the breadth of our food and beverages."
Lesser known, he said, were the success of high-quality honey and yoghurt in Europe, and New Zealand's grip on the super premium wine market.
Top chefs Annabel Langbein, Josh Emett, Justin North and Warren Turnbull have shaped the menu for Taste at the Cloud, which is separated into four small zones - seaside, urban, rural, and orchard/winery.
Mr Turnbull, who was raised in South Auckland but recently returned from 20 years in London and Sydney, said it was important to push diners' tastes pastthe usual flavours and cuts of meat.
"Everyone seems to want snapper, but there's some amazing, underrated seafood, like ling, bluenose ... and kahawai.
"It's all about moving forward, and it helps for people to see differently. It's a sustainability thing too, using different cuts of animal, instead of your standard fillets and your rack, which Kiwis are brought up with."
A quick survey of Queens Wharf visitors by the Herald found the most popular dish was the horopito venison tataki with golden kumara crisps and puha and watercress pesto.
Seventy wines - hand-picked after blind tastings of 350 wines - have been chosen to complement the food options.
Placed in the back third of the Cloud venue, the festival will run for 41 days.
Near the end of the Rugby World Cup, another festival, Taste of New Zealand, will run at Victoria Park.
Taste at the Cloud, Queens Wharf, 11.30am-6pm weekdays and 10am-6pm weekends until October 24. Free to enter, with ticket packages starting at $17.
Tasty morsels - mmmmm...
* Greenlip mussels with lemongrass and coconut fire sauce.
* Beer-braised beef and honey kumara pie with macadamia crumb.
* Flaked, smoked kahawai on artisan grain croute in avocado and kawakawa butter.