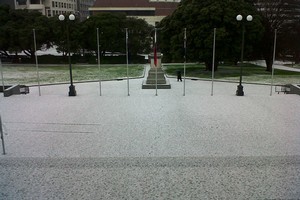 A violent hail and thunder storm has caused two car crashes and left the ground "white like snow" in Wellington.
Police have said the storm after 1:30pm had been the catalyst for crashes at State Highway 1 near Ngauranga Gorge and on the Motorway near the Aotea off ramp.
Drivers were urged to be cautious amid the poor visibility.
Weatherwatch.co.nz said hail had coated Wellington motorways and inner city streets in a blanket of white.
Its head forecaster Philip Duncan said the storm had caused some of the "loudest thunder in years".
His site's lightning tracker had recorded 200 over the lower North Island in the past hour.
He said the storm had reduced temperatures in the city from 12 to 4 degrees celsius within 30 minutes.
Wellington residents have taken to Weatherwatch.co.nz to describe the dramatic weather.
Rachel Van Stockum said: "It's incredible! My back yard is white".
Meanwhile, westerly gales are expected to develop over the upper half of the North Island tonight, with severe gale gusts of 120km/h are possible in exposed areas of Taranaki, Waikato, the Coromandel Peninsula, about western Bay of Plenty and around the Auckland area.
These gusts are expected to ease tomorrow morning.
As a result of conditions, Fullers have cancelled Birkenhead and Northcote Point ferry services and are currently monitoring conditions.
The MetService warning comes after high winds lashed parts of the North Island yesterday, although there were few reports of damage.
A section of Queen Street in Auckland was closed yesterday afternoon after high winds blew roofing iron off the St James Theatre.
Parnell station officer Craig Lamp said about a metre of roofing iron was lifted off, smashing through the glass veranda at top of the ASB bank on the corner of Queen St and Wellesley.
No one was reportedly injured in the incident.
The weather system had caused snow to fall to low levels in the South Island.
MetService forecaster Paul Mallinson said a further 5-10cm can be expected down to about 300m in parts of Southland and Otago south of Dunedin.
In southern Fiordland, a further 15-25cm can be expected to similar levels.
Lesser amounts of snow is also likely down to 200m in the Dunedin area and to 400m in parts of inland central and north Canterbury from late this morning until early evening, Mr Mallinson said.
"Also, winds are blowing a gale about coastal parts of Southland and Otago during this time making for bitterly cold temperatures and possible blizzard conditions about the coastal hills. People in these areas are advised that higher roads are likely to be affected," Mr Mallison said.
Alpine roads on both islands are forecast to get snowfalls today, with the Desert Road likely to have 10-15cm of snow settle above 800 metres from today through to dawn tomorrow.