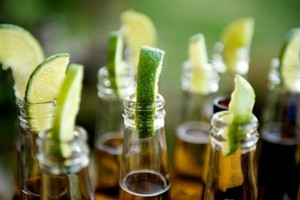 Alcohol will remain off-limits on the Otago University campus as students face an extended dry spell courtesy of a Rugby World Cup liquor ban which is likely to continue once the tournament ends.
Members of the University Council are expected to approve a recommendation at a meeting today from Otago's new vice-chancellor Prof Harlene Hayne to implement an 'Alcohol on Campus Statute'.
The law will apply until at least January, when it is expected to be repealed and replaced by a new set of regulations for 2012, Prof Hayne said.
Students breaching the on-campus booze ban "may" be dealt with under the university's discipline regulations and code of conduct, which allows for the imposition of fines, community service and, in worst-case scenarios, expulsion from the university.
Otago University Students Association president Logan Edgar was pragmatic about the prospect of a campus liquor ban extension, although it required "further discussions" about how it might be policed.
"It's generally accepted among the student body that out of respect you don't drink around the campus."
The law was about promoting safer drinking and students should still be able to enjoy "a beer in the sun" as part of that, Mr Edgar said.
The Dunedin City Council asked the university to implement an alcohol ban as part of wider restrictions through the city and North Dunedin for the World Cup.
The alcohol on campus statute, subject to some exceptions, will prohibit all persons from bringing, possessing, or consuming alcohol on any part of the campus.
"The principal intent of the statute is to make plain that the university campus is not available as a place for groups to congregate and consume alcohol, and to support the taking of measures against those who may attempt to do so," Prof Hayne says in a memorandum of recommendation to council members.
Exemptions applied for people carrying alcohol in unopened containers and would not not affect the consumption of alcohol within university buildings, in line with current practice and policy, Prof Hayne said.
Non-students, who "chose to drink alcohol on campus" would be asked to desist by Campus Watch staff and leave the university's grounds, while the statute would also provide police with a "greater ability to respond to any who may fail to co-operate."
- APNZ