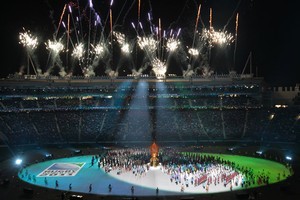 A million dollars of Rugby World Cup tickets have sold every day since opening night - with excitement over the tournament hitting fever-pitch.
Tournament boss Martin Snedden told the Herald last night from the South Africa vs Wales match in Wellington that total sales had pushed through 1.2 million tickets and past the $250 million mark.
"Unbelievable. The atmosphere is just unbelievable," Mr Snedden said.
"The crowds, just everyone is getting stuck into it.
"I was at Argentina-England in Dunedin and you just couldn't hear yourself.
"It's sort of like every single game has come alive so far. The crowd participation is so strong and really into backing one side or the other."
New Zealanders were picking visiting teams to support and showing their hospitality, he said.
"At Dunedin everyone was for England or Argentina, and there was just about no one neutral in there," he said.
"It's working, mate, it's working."
Rugby New Zealand chief operating officer Therese Walsh said the tournament was now seeing sales of $1 million a day.
"We always expected sales to rise as the tournament comes alive across the country, so it's great to see so many New Zealanders now wanting to be ringside."
At least 25,000 tickets sold at the last minute to the matches over the opening weekend.
The Australia vs Italy match at North Harbour Stadium saw a surge of more than 8000 sales in the final lead-up.
Only 17,500 tickets had been sold by Wednesday last week - but the capacity crowd yesterday was 25,731.
Matches at Invercargill and Rotorua also witnessed huge buy-ins, with last-minute sales of 3400 and 2800 respectively.
Rugby Park Stadium reached 95 per cent capacity after concerns just days earlier that thousands of tickets were left.
Eden Park on opening night and Dunedin's new covered stadium for the Argentina vs England game both sold out.
"You have just seen people rise up right around the country and just embrace this. And I'm just looking around the stadium in Wellington and the number of South African flags and Welsh flags ... " said Mr Snedden.
"I came out on the bus, and in the middle of Courtenay Place there's a little Welsh pub - the only Welsh pub in the Southern Hemisphere - and the owner said it was his best trading night ever. He was just ecstatic."
Fan zones in Wellington, Christchurch and Taranaki had also buzzed on opening night.
"The people in all the city centres have stood up," Mr Snedden said.
"People have just got the spirit - and they're doing it the right way. They're celebrating the diversity of the whole thing."
The beginning of the surge had been the arrival of the Tongans in Auckland last week, he said.
"That lighted the fire in some way, and others are picking up the responsibility for that and carrying it on. It's just so energising."
Rugby New Zealand is urging fans to get in quick to nab the last few available tickets.
Ms Walsh said: "We are expecting most of these matches to be at or near capacity. So our advice to fans is to purchase tickets now and avoid disappointment or having to queue on match day."