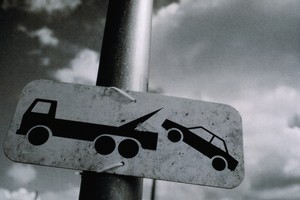 Rugby fans who thought they were parked legally near the Albany park-and-ride were towed and forced to pay $230 to get their vehicles back after Friday night's Rugby World Cup opening.
Confused car owners said they did not see any signs in the grass field near the Albany transport station saying it was not legal to park there.
Allan Montefiore left his car at the Albany Park and Ride at 3pm.
"There was a driveway into the grass and there were cars everywhere so we just assumed that for the Rugby World Cup the park-and-ride opened up the grass section."
Mr Montefiore said that when he arrived, "40 to 50 cars" were already parked on the grass area. He returned to the park-and-ride at 10 the next morning to find his car gone.
He soon found out it was being held at the premises of towing company Amalgamated Carpark Services.
"We went to pick it up and there were a lot of other people there as well."
Lyn Gibson's car was also towed on Friday night from the same grass field.
She said half a dozen cars were parked when she arrived.
She saw no signs on the way in, but the next day, "makeshift signs" had been placed on tree branches saying the cars had been towed.
"If the sign had been visible to us as we were turning into that road we would have known straight away not to park there. They were not there but they were definitely there when we came back," Mrs Gibson said.
Rudi van Emmenes arrived early in the afternoon and noticed parking everywhere else was full and cars had begun to park on the grass. "We weren't the first car down there and there were no signs saying that we were not allowed to park there."
Arriving back the next day to drive home, he saw a tow truck in the field. He found out he would have to get to Cowley Cres to collect his vehicle.
"I believe the Auckland Council should step up to the plate and refund all of us. This should not have occurred if they planned this event properly."
Amalgamated Carpark Services declined to comment.