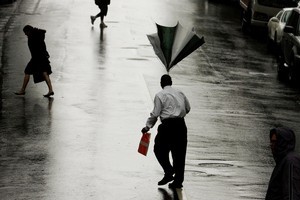 Savage gusts of wind snapped masts and another yacht hit rocks in an endurance race in the Hauraki Gulf early yesterday morning.
At least four vessels had problems in the Simrad 100 race, which starts at Bean Rock and sets a course for Channel Island, Great Barrier and Little Barrier Islands.
A powerful gust tore through the endurance race near the finishing line in the Rangitoto Channel about1.30am.
Auckland Coastguard duty officer Katherine Andrews said it snapped the masts off two yachts and caused another to run aground.
"The wind just picked up like you wouldn't believe."
It was the third race of an annual series run by the Shorthanded Sailing Association.
Organiser Dougall Love said racers knew the conditions might get tricky but sailors from the 166 entries all made it back to Okahu Bay safely.
The gusts reached about 45km/h and lasted a few minutes.
"Really, it wasn't that wild out there. It was really only 25 knots of breeze. The two boats which broke masts did it within half an hour of each other so it was all happening.
"The wind built, and when you come out of Rangi Channel you don't have as many sailing options in terms of the angles you sail. They were probably loaded up and pressured."
Mr Love said a 10.5m keeler, High Voltage, hit rocks near Rangitoto Island.
"When we arrived it was taking on water but they were holding the waterline by the efforts of two desperate men with buckets."
Owner Grant McKinnon said the keel cracked but he was able to motor home after the coastguard provided a pump.
Rod Palmer was one sailor who got caught out, on the 9m War Machine by the gust, which he said lasted for a couple of minutes.
"It wasn't a short gust.
"We basically were going ... hit a wave and the mast just folded in the middle and went over the side.
"There was very little we could do."
- APNZ