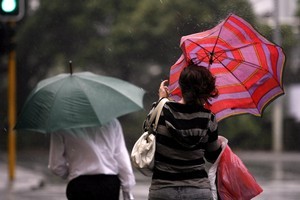 Wild weather has ripped boats from their moorings, damaged power lines and caused havoc for an Auckland yacht race this morning, while the Metservice warns parts of the South Island could be in for a blizzard.

A massive gust of wind tore through the endurance race near the finishing line in the Rangitoto Channel at about 1.30am.

Auckland coast guard duty officer Katherine Andrews said it ripped the masts off two yachts and caused another to run aground.

"The wind just picked up like you wouldn't believe,'' she said.

Fire Service Northern Communications shift manager Jaron Phillips said a 10 metre launch was also pulled from its moorings in Kawakawa Bay, southeast of Auckland, at about 7.45am.

It was washed onto the rocky shoreline, where it would remain until at least the next high tide, he said.

Around the same time in Mills Bay, Northland, a yacht came adrift and had to be towed back to its mooring by a Fire Service rescue boat.

Meanwhile, power was cut for part of Waiheke Island this morning after high winds hurled a flag pole onto powerlines in Oneroa .

Sparks flew and power was down for parts of the island until the pole was removed, Mr Phillips said.

A family on Auckland's North Shore were woken by a loud bang after the powerful wind tore off part of their roof.

Firefighters nailed the one metre piece of roofing iron back on to keep the weather out, Steve Sosich of East Coast Bays Fire Station said.

Metservice has issued severe weather warnings for Southland, Otago, Wairarapa and Hawkes Bay and said gales-force winds could spread over much of the North Island tomorrow.

Snow is expected to low levels over the far south tomorrow, with the possibility of heavy falls above 300 metres.

Winds are also expected to reach gale-force for coastal parts of Southland and Otago on Monday and Tuesday, making for potentially blizzard conditions about the coastal hills.

Metservice advised farmers in affected areas to move vulnerable stock to sheltered locations.


Forecaster Stephen Glassey said Northland and Auckland could be in for thunderstorms this afternoon and evening.

- APNZ