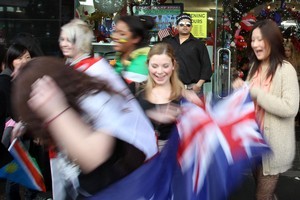 If it seems every second car has a Rugby World Cup flag flying from it, there might not be anything too wrong with your eyes.
Souvenir sellers say demand has been "manic" for the past 10 days, with several saying they have run out of stock. Ikes and Geoffs Emporium general manager Derrol Lamb has his fingers crossed new shipments arrive quickly.
"Hopefully that will take us through," Lamb said. He said his stores never usually sold Georgian or Namibian flags and he had been wary of getting caught out with a whole lot after the World Cup.
Language difficulties meant he missed out on bunting - strings with flags from multiple countries attached. "We've had lots of enquiries for them and I kicked myself for not pursuing it harder."
But never fear, you can still get them - they have been advertised at inflated prices on Trade Me.
The Warehouse has sold more than 100,000 flags and 80,000 All Black jerseys in the past week alone.
General manager customer channels Des Flynn said stores had noticed a 40 per cent increase in foot traffic.
More unusual items on sale included haka-singing teddy-bear stubby holders, along with the usual beanies, scarves and key rings. "The most angst has been caused by car flags," Flynn said. "Everyone wants them. This time last week stores were doubting whether they'd move them, now we've sold out and are struggling to get more."
Marketing manager of Look Sharp Discount Stores Drew Lim said sales jumped five-fold last week and tills were working furiously. "It easily exceeded Halloween, at one stage we had people queuing out the door."
Some of its more popular items included rugby tattoos, stickers, cups, silver fern rain ponchos and inflatable hands with the words "Go No 1 team" in colours to match countries.
Their central Auckland store had fitted out many high-rise offices with kitsch as the country got in the rugby mood.