Herald reporters on the ground rate the performance of Auckland's organisation, infrastructure and atmosphere on the opening night of the Rugby World Cup.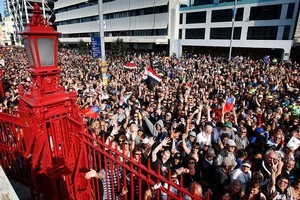 Opening-night ratings (1 to 10 - with 10 being excellent)
Eden Park
Atmosphere: Festive outside stadium before kick-off. Plenty of sympathetic "ohhs" as All Blacks and Tongans smashed each other.
Organisation: Smoothly run, many volunteers ready to give directions. Complaints the waterfront fireworks weren't shown on the big screens and no soap in some toilets.
Security: Heavy presence, but not heavy-handed. Police responded with smiles to good-natured ribbing.
Service: Although some queues cleared reasonably quickly, other punters reported waiting up to half an hour for food and drink.
Comment: Who knew Eden Park could look and feel like this?
8/10
Queens Wharf
(general and Shed 10)
Atmosphere: Packed without being too hard to move around.
Enough areas for a bit of quiet and a sizzling stage area with plenty of music and entertainment. Everything that had been promised.
Organisation: Entry was a disaster. Thousands waited for hours to get in. But inside, the entire wharf ran smoothly.
Security: Helpful and thorough.
Service: Food stalls and beer booths kept service flowing all night.
Comment: It was the place to be - too bad getting people in was so poorly handled.
8/10
Queens Wharf
(The Cloud)
Atmosphere: Carnival. Hundreds hunkered down in front of giant television screens. Sun streamed in late afternoon and it lit up at night.
Organisation: Near faultless. Lots of volunteers on hand. Could do with more women's toilets, but the men shared their quarters.
Security: Friendly and efficient.
Service: The beer flowed freely.
Comment: Most people were on Cloud nine.
9/10
Viaduct
Atmosphere: People super friendly, and lapped up Dave Dobbyn's music in the beautiful weather.
Organisation: The massive screen didn't broadcast the mass haka from the waka boys.
Comment: Kiwis were nice to each other and visitors.
7/10
Quay St and Queen St
Atmosphere: Great - until it got dark. Fans waved flags proudly and generally behaved themselves on Queen St. Got a little bit scary during the haka screening on the big screen as crowd were squeezed to the south side of Quay St because the other screen wasn't working, and people started to panic. Late-night revellers made downtown uncomfortable as they were pushed and couldn't move.
Organisation: Technology let down. The crowd could have been more evenly spread through Quay St had all screens been working.
Security: Reactive, but massive crowd limited their movement.
Comment: Most would have had a good time, but the experience for some could have been harrowing.
5/10
Fan trail
Atmosphere: Everyone excited, lots of yelling and chanting, cars tooting, people happy and cheerful.
Organisation: Very organised, volunteers along the whole walk to guide people, few people walking on to road when they shouldn't. Walk very easy to follow.
Security: Well done, no problems that we saw and not in your face too much.
Comment: Cool experience, everyone said they loved it, but was very slow at some points, due to overcrowding.
9/10
Transport/traffic
Atmosphere: Very good humoured for far longer than transport authorities deserved, but finally wore out.
Organisation: Started out well, considering size of crowds. But shortfalls when the wheels starting falling off.
Security: Poor at the bus stations. Passable at Britomart.
Comment: All the best planning fell down on its weakest links after transport officials underestimated how many people would heed messages to keep cars off the road and rely on public transport. Poor communications with the public.
3/10
Policing
Organisation: Shortly before 4pm, police and security had to turn people away from Wynyard Quarter and the Viaduct as it had reached capacity. Well organised.
Security: Lots of security everywhere, assisting police on Queen St.
Comment: It seemed there were enough officers around, but more police needed in the busiest parts of the city, including Queen St.
8/10