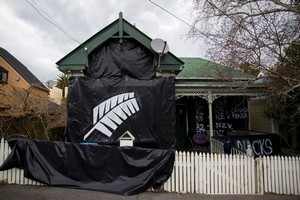 A Ponsonby house has been decked in All Black colours - for under $100 - by five flatmates who hail from different nations, but wanted to show who they support in the Rugby World Cup.
American Gavin Davies, 25, who was tasked to paint the silver fern over a large plastic sheet bought from a local hardware store, said the banner was a reflection of how much they had all grown to love New Zealand. "It's a great country and the All Blacks are a great team.
"There's only one in the house, Joe Considine, who's a local, but I guess you can say we've been influenced," said Mr Davies, who did not follow rugby until he came to New Zealand last October.
"I'm aware there's a team USA in the tournament, but they're really not very good."
The other flatmates living in the Summer St house were from Brazil, Ireland and England, Mr Davies said.
Mr Davies, a bartender at the Corner Bar, was tasked to do the spray painting because he's the only one who went to art school.
Hundreds of supporters throughout the country are using their homes as a platform to show their colours and the team they support.
Tongan patriots are painting many parts of South Auckland red, with a sea of red flags, banners and signs decked on houses and vehicles in a show of support for the 'Ikale Tahi who take on the All Blacks tonight.
James Tu'iono, from Otara, said for many Tongans living here, their "blood is [as] red as ever" and decking their homes with flags of their birth nation was a show of patriotism.
"We love New Zealand, but many off us grew up supporting the 'Ikale Tahi and that's never going to change," Mr Tu'iono said.
"The flags and banners that you see are an outward sign of how strongly we feel inside."