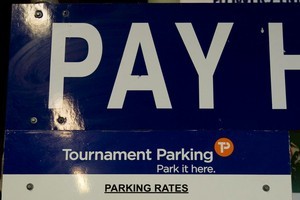 Auckland commuters are accusing a parking company of greed for rationing cheap "earlybird" spaces to make way for Rugby World Cup crowds.
They are complaining about Tournament Parking's seven-level central city building in Durham St West, where an attendant told the Herald that only 50 out of 150 spaces normally allocated at cheap rates would be available today.
The company says it is trying to look after monthly and pre-booked customers in response to heavy demand, and that it is offering casual users a larger open-air parking space about 600m away.
But city worker Donna Sykes said she was not told that on being charged $36 to park at Durham St for each of the past two mornings, despite arriving there before an advertised earlybird cut-off time of 10am.
That compared with earlybird rates of $12 or $13, depending on which level cars are parked.
"It sounds like they are being greedy - and it hasn't even started yet," she said, in reference to the rugby tournament.
"I can't understand why, because so many visitors to the country won't be driving and parking anyway."
Ms Sykes said she had been told by the building's attendant that only 130 spaces were available for earlybird parking yesterday and the day before, and the number would be down to 50 today.
She said she tried to find space in other buildings, but they had filled up by then so she returned to Durham St.
The attendant confirmed the numbers to the Herald, and said there were usually 150 spaces available for cheap parking. He said $10 parking was available at the alternative Tournament site, between Wellesley St and Cook St, in the block west of Nelson St.
Another woman emailed the newspaper complaining that she had been refused entry at the earlybird rate at Durham St at 9.30am on Wednesday "on the grounds that because of the Rugby World Cup it was now $36".
"I understand people wanting to make a bit of extra money at this time but this is a real case of misadvertising - it is certainly not fair trading," said the woman, who did not want to be named.
Tournament general manager Dale Clements said the company had distributed leaflets to regular earlybird customers at four of its inner city buildings where it expected parking to be tight, saying it would be available "until allocations have been exhausted or 10am".
"There are still earlybirds available, but you just have to be an early earlybird," he said.
"It's the law of supply and demand and trying to keep our pre-booked and monthly customers happy when it's going to be very busy, but we are providing people with cheap alternatives."
Asked if the rationing would continue throughout the rugby tournament, Mr Clements said: "We just don't know. We're going to try to get this right - it's a bit of a guessing game."
HAVE YOUR SAY
Have you been ripped off? Email newsdesk@nzherald.co.nz