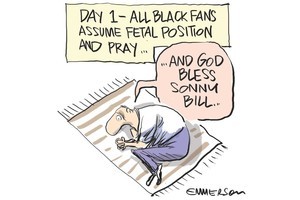 Starting to feel a little nervous now? Wondering if the All Blacks can do it this time? Feeling a little bit queasy? Then visit this website: Wait-of-a-Nation.com.
The site, created by Kiwi ex-pat Eammon Conaghan, has been set up to help New Zealanders deal with the fear of the All Blacks making (another) early exit from the Rugby World Cup.
Mr Conaghan, 35, grew up in Mossburn, Southland, but is now living in Chicago working at an advertising agency. He said he made the website to try to get people to relax.
"There's a lot of rugby fans around, but the World Cup has become really onerous. It's brought so much stress," he said. "It's a place where Kiwis can go and huddle in a virtual corner to share the fear."
The website reads: "Assume the fetal position, New Zealand. The agony of a World Cup is almost upon us. The crushing weight of our expectation is poised to once again fell the otherwise infallible All Blacks and send us into a tailspin of national depression not seen since ...
well, 2007.
"Wait of a Nation is here to amplify the woe ... think of it as a virtual lens through which the country can better focus its forbidden, ruinous hope for glory into a destructive force - like a looking glass sharpens the heat of the sun on an ant.
"Of course an All Black's bigger than an ant, but then our country's hopes outweigh the sun by a similar proportion."
Mr Conaghan said the site had attracted bloggers from all over the world, including France, South Africa and Australia. It has also been successful in selling T-shirts with prints that include one where a therapist asks a New Zealander - in the shape of a map of the country - "So ... tell me about 2007?"
Mr Conaghan said the shirts had proven to be a hit, so much so that International Rugby Board officials had let him know of their dislike of them.
Although people may view the website as a negative outlet, Mr Conaghan said it was a place for Kiwis to come together and be sarcastic and relax about the whole idea of the Rugby World Cup. It was just a little bit of fun.
"You don't have to check your optimism at the door. Hope and pride are okay. We don't interpret All Black support as a sign of New Zealand arrogance or World Cup entitlement."
The bottom of the site encourages All Blacks believers to: "Enjoy. Hope. Pray."