Tell us about what's happening in your town, or a great place to watch the games Email us here
What's on in Auckland from Monday 12 September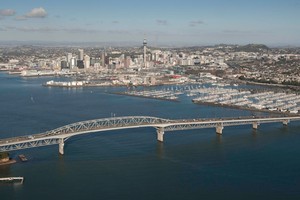 If you're wanting to embrace Cup Fever and get involved, then you have come to the right place. nzherald.co.nz brings you updates on what to do and where to watch the games in the main centres during the World Cup.
Things to do:
Black in Fashion
The Black in Fashion pop-up exhibition explores wearing the colour black in New Zealand. From the all black uniforms of our sports teams to that icon of Kiwiana, the black singlet, black is the colour most commonly associated with New Zealand identity.
Monday 12 September to 24 October.
New Zealand On Screen
New Zealand On Screen is an unparalleled showcase of Aotearoa identity as seen on screen. From Billy T to Boy, from Gloss to Goodbye Pork Pie, from Peter Snell to The Piano, Hillary to Hudson and Halls, New Zealand On Screen celebrates screen icons that embody Kiwi spirit and stories.
Monday 12 September to 23 October.
Where to watch the game if you can't make it to the game:
Queens Wharf
In a prime location at the heart of the waterfront, Queens Wharf will be open every day of Rugby World Cup 2011 with free access. New Zealanders and visitors will be able to watch the Rugby on big screens, enjoy free concerts by top Kiwi bands and take in displays of New Zealand's creativity, innovation and ingenuity.
Queens Wharf, Auckland central.
Fort Street Union
DJ's will be playing so you can enjoy yourselves on the deck in the sun. Fort Street Union will be playing all games live and loud on the 5 big screens.
Throughout the World Cup.
Northern Lights Fanzone
The Northern Lights Fanzone at the Albany Lakes site, neighbouring Albany's Westfield Mall and North Harbour Stadium, will cater for up to 10,000 fans and feature two big screens.
Albany Lakes, Civic Crescent, Albany.
Outrageously West Fanzone
A popular venue that will be transformed into an indoor Fanzone catering for up to 6000 people. Separate licensed and family areas will cater for all, and live entertainment will take on a truly west Auckland feel.
The Trusts Stadium Arena, Central Park Drive, Henderson.
Southern Seas Fanzone
The Southern Seas Fanzone in Mangere Town Centre, south Auckland, will reflect and showcase the exciting local talents of this diverse community.
Corner Orly Avenue and Bader Drive, Mangere.
The Dominion
234 Dominion Road, Mt Eden, Auckland.
The Britomart Country Club
Galway Street, Auckland.
Sale St
7 Sale Street, Freemans Bay, Auckland.
The Saint
101 Clyde Road, Browns Bay, Auckland.
The Backyard
31 Northcote Road, Northcote, Auckland.
The Drake
2 Drake Street, Freemans Bay, Auckland.
Horse & Trap - Mt Edens Bar
3 Enfield Street, Mt Eden, Auckland.
Malt
442 Richmond Road, West Lynn, Auckland.
Degree Gastrobar
204 Quay Street, Viaduct Harbour, Auckland.
Garrison Public House
61 Sylvia Park, 286 Mt Wellington Highway, Mt Wellington, Auckland.
The Zookeepers Son
715 Mt Albert Road, Royal Oak, Auckland.
Chapel Bar & Bistro
147 Ponsonby Road, Ponsonby, Auckland.
The Elephant Wrestler
138 Hurstmere Road, Takapuna.
The Bluestone Room
9-11 Durham Lane, Auckland.
Villager
606 Remuera Road, Remuera, Auckland.
Mt Eden Cloak Room
476 Mount Eden Road, Auckland.
Paper Moon Cafe and Bar
437 Beach Road, Mairangi Bay.
The Kingslander
470 New North Road, Kingsland.
Heineken World Bar
17 Quay Street, Auckland Central