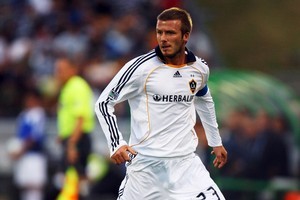 A man who quit after a failed football extravaganza in Auckland featuring David Beckham is writing a business plan for Hamilton to host the Under-20s soccer World Cup.
Lance Vervoort, Hamilton City Council's community general manager, was one of two senior executives who resigned from Auckland Regional Council in 2009 after the fiasco.
He and the then Mt Smart Stadium group manager wrote a confidential report recommending the match, between Beckham's LA Galaxy and an "all-star" Oceania team - but it flopped spectacularly, losing the stadium $1.79 million.
Mr Vervoort moved to the Hamilton council soon after, and is formulating a business plan on whether to bid for the Fifa Under-20 World Cup in 2015.
Hamilton is putting a business case together measuring the potential economic and tourism benefits of hosting the event against the amount of money council would have to pay for upfront to host a minimum of four games at the Waikato Stadium.
A report commissioned by the New Zealand Football Federation showed hosting Fifa's second-largest tournament would offer $2.92 million worth of benefits to a region.
But the minimum investment would be $300,000 for at least three pool games and a knock-out match and rising to $900,000 for at least three pool matches, knock-out round, quarter-final, semifinal, grand final and hosting Fifa headquarters and media.
The host centre would also have to provide four training grounds within a 45-minute drive.
Mr Vervoort said staff would compile a comprehensive business case outlining the pros and cons of bidding that the council could use to help make its decision at the start of November. The deadline for a bid is November 30.
The tournament is expected to attract about 9500 visitors including Fifa entourage - much less than the 85,000 international visitors expected into New Zealand for the Rugby World Cup. However the tournament is broadcast in more than 200 countries to about 500 million viewers.
Mr Vervoort said the council had approached the other councils in the tight five - Waikato District, Matamata-Piako, Waipa and Otorohanga - to see whether they would be able to provide facilities or would be interested in supporting the bid.
The council was also talking with Rotorua about putting in a joint bid, but early feedback from the federation was they preferred separate bids.
Further investigations would also find out whether the city's facilities met Fifa's requirements.
"If we are not compliant with the match requirements around facilities we might not even put in a bid at all."
However councillor Ewan Wilson cautioned councillors about getting too hyped about bidding given the council's financial difficulties.
"I don't want to be a spoiler but I want to send a clear message of caution. We will look at this in the cold hard reality that this council is under huge financial pressure."
Councillor Pippa Mahood reminded the council how successful Hamilton had been in hosting the Fifa Under-17 Women's World Cup Tournament in 2008 and said it was a mark of that good work that the city had been given another chance to bid. New Zealand beat Wales to host the Fifa Under-20 World Cup in March this year.
The LA Galaxy game in December 2008 drew only 16,600 people instead of the 20,000 needed to break even. Although a financial flop, the event is credited with helping to raise New Zealand's international profile.
On resigning, Mr Vervoort, who had been at the ARC for 15 years, said it was "time for me to move on".
- APNZ