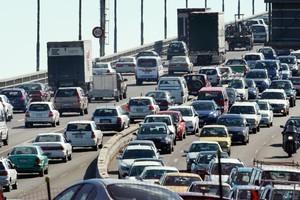 Auckland's overall traffic congestion appears to have eased in the past two years, although commuters are taking a little longer to drive home.
A sharp decline in morning congestion reported to Auckland Council's transport committee has brought the average delay for each kilometre travelled between 7.30am and 9.30am on main routes down to 39 seconds.
That would still add six and a half minutes to a 10km trip, which would take 12 minutes at 50km/h in a world of free-flowing traffic and no lights.
But it is down from a delay of about 53 seconds in 2009, which would have added almost nine minutes.
The average delay for evening travel measured in a survey in March was just over 37 seconds a kilometre, compared with 33.5 in 2009.
That still makes homebound trips a bit quicker than the grind to work.
A council report says the decline in congestion has been influenced by the completion of two large motorway projects - the duplicate Mangere bridge crossing and the direct connection at Manukau between State Highways 1 and 20. Other likely influences are the removal of speed restrictions around road works and a rise in fuel prices.
But the report blames motorway construction, including at Newmarket and Victoria Park, for a sharp increase in travel time variability on the region's freight routes during evening traffic peaks.
It also reported a count of travellers into central Auckland between 7am and 9am on Wednesday, March 30.
Public transport brought 32,382 people into the city that morning, a 3.3 per cent increase on last year.
But the proportion who travelled by public transport dropped slightly, from 47.7 per cent last year to 46.4 per cent in March - although still well up from 39 per cent in 2006.
That was attributed to a small rise in the occupancy of cars entering the city, to 131 people for every 100 vehicles compared with 126 people last year.
Although there were increases in numbers who came by rail (14 per cent) or ferry (12.5 per cent), or who walked (7 per cent), buses and cycling suffered declines of 0.2 per cent and 6 per cent respectively.
Even so, buses remained by far the most popular public option, carrying 23,124 passengers compared with rail's 5603 and the ferryman's 3655.
Walking accounted for 4795 trips, and 789 people cycled.
Auckland has again been rated bottom of a class of 14 cities for the average number of public transport trips taken annually by its residents.
They took an average of just 44 trips a year, compared with 74 trips by Wellingtonians, 124 by Melbourne residents and 168 by those in Ottawa.
The report noted that Auckland's public transport patronage has risen 8.5 per cent since the study.
Aucklanders also paid the highest average fares of the surveyed cities, of 24c for every kilometre travelled, compared with 17c in Wellington and 11c in Perth.
Snarl-up
Congestion delays in the morning traffic "rush"
* March 201139secs for each km travelled
* March 200953secs
Evening travel
* 2011 37secs
* 2009 33.5secs
Number counted travelling to CBD 7am-9am on March 30
* By car 37,407
* By public transport 32,382.