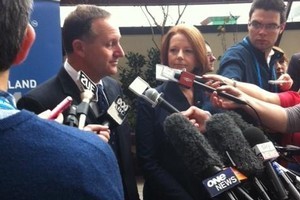 Amid a flurry of multi-million dollar aid announcements, Prime Minister John Key appears to have stalled any rumbling discontent among other Pacific leaders about Fiji's continued suspension from the Pacific Islands Forum.
Mr Key also used his meetings with leaders to shore up in advance the Forum's position on French Polynesia's bid for decolonisation - saying in 2004 the Forum had not given an endorsement and he did not expect that to change.
The official Forum opening is this morning and 14 of the 16 Pacific leaders in the Forum will hammer out the formal position tomorrow on Waiheke Island.
However, as in previous years, much of the work on contentious issues has been done in smaller meetings beforehand.
On French Polynesia, Mr Key said while there was support for independence, it was a matter for France and French Polynesia to work through between them.
It will disappoint French Polynesia's Oscar Temaru who brought a delegation to New Zealand to lobby for support for reinscription on the UN decolonisation list - something France has rejected outright.
Mr Key said he had also sounded out each of the leaders he had met on Fiji and the consensus was that the suspension should be maintained while the offer of help remained.
Mr Key said an apparent vote of support of Fiji by some leaders and representatives of nine Forum countries in Nadi last week should not be overstated.
"I think they'd all love to see Fiji back in the fold - the issue is what that would take. There's an acceptance that the position should be maintained."
Kiribati President Anote Tong said his country was represented in Nadi and had signed the communique. It was important to support 'friends' but he believed there had to be some "tangible benefits" if the suspension was lifted.
"Engaging is important and if lifting the sanctions or suspension would be met with something in return, I think that would be a positive move."
Fiji's case could also be weakened by the absence of two Melanesian leaders - Vanuatu's Prime Minister Sato Kilman was trying to resolve a political standoff in Vanuatu and Papua New Guinea's new Prime Minister Peter O'Neill is not due until tonight.
The Forum has increasingly become the place when significant aid announcements are made by New Zealand and Australia - opening it to criticism that the smaller states fall in line with the position of those two countries because of that.
This year was no exception - funding announcements so far included developing the Pacific cruise ship industry, $7.9 million for a solar energy plant in Tonga, $15 million for tourism in Niue, and $25 million for roading and airstrips in the Solomon Islands.
Asked if the priority of aid spending was right given the immediate climate change problems faced by countries such as Kiribati, Mr Key said he had met with Anote Tong who was "very grateful" for New Zealand's aid commitments in such areas.
Mr Tong said money for aid funding for infrastructure and economic development was important - but should be on top of climate change adaptation rather than instead of it.
"We are very grateful and we need that - there's no question about that. But at the same time I'm hoping we won't be regarding the flow of aid as substituting for our need for adaptation."
The announcements yesterday also included aid aimed at disasters - including $2.7 million for tsunami warning systems in several countries and - two years after the sinking of the Ashika - $6 million on maritime safety in the Pacific, targeted at Tonga, the Cook Islands and Kiribati.