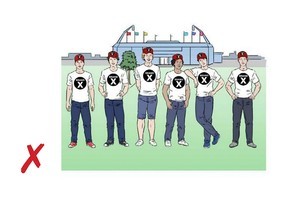 Fans are banned from wearing high-visibility jackets, roller blades ... and taking their favourite car part to World Cup matches.
A group of fans wearing matching outfits of a brand that is not an official sponsor could also fall foul of the rules.
The list of prohibited items at World Cup stadiums, available online, covers 28 points - including advice that the tournament organiser can decide other bans "in its absolute discretion" to avoid inconveniences to other people.
The list includes food - specifically McDonald's, Burger King, KFC or Subway, though a "small amount" of "non-commercial" food is allowed. Gang patches, furniture, umbrellas and flags with sticks longer than 80cm are also explicitly banned. Tournament organisers said prohibited item number 19 - car parts - was Wellington's fault.
"Some stadia do exclude these - eg Wellington - so it was absorbed into our list," a spokesman said. But AUT senior law lecturer Craig Dickson said the rules were rife with uncertainty and contained potential pitfalls.
"What happens when 20 people arrive with non-sponsor jerseys? In theory they are empowered to confiscate the jerseys. These things have happened before," Mr Dickson said.
"You can see the situation where 20 or 30 people band together to get a tour jersey - which might have some sponsorship on it - and an overzealous security guard decides that it's not allowed."
Many rules depended on the discretion of the enforcement officer on the day, he said.
"So how is anybody supposed to know? There's plenty of stuff going on that's very close to the line.
"No matter how much you pay to become a sponsor of the event, you don't own the crowd." The rules were backed by the Major Events Management Act - a "big, draconian sledgehammer piece of legislation".
"It reaches further than anyone thought was appropriate and it's always going to sit on our statutory books."
The rules also extended to neighbouring businesses - in some cases to an "extraordinary overriding of private property rights", Mr Dickson said.
Act Party Leader Don Brash said Auckland businesses were being knocked back.
"I've had first-hand reports from several of these small business owners, and all they really want is to make the most of a once-in-a-lifetime opportunity," Dr Brash said. Pubs and restaurants close to Eden Park had already had to pay thousands of dollars just for approval to operate on match nights, unlike their counterparts in Party Central on Queen's Wharf.
"No one wants to see the law being broken, but council officials need to loosen up and show some flexibility," he said. "Not all rugby fans and tourists want to be corralled into Party Central - Auckland's got a lot more to offer."
A restaurateur had been refused permission to allow buskers outside his establishment, resource consents were refused for street stalls, and a proposal to hold a street festival in Kingsland was turned down, he said.
"Kingsland is one area where there are likely to be thousands more seeking food, drink and entertainment than existing establishments are legally permitted to cater for. But requests for flexibility have fallen on deaf ears."
NOT WELCOME
* Umbrellas
* High-visibility jackets
* Drink bottles
* Banners, signs or flags containing branding
* Flags with sticks longer than 80cm
* Musical instruments
* Vuvuzelas
* Roller blades
* Car parts
* Radio transmitting devices
"Any other item that RNZ 2011 determines (in its absolute discretion) may cause injury or public nuisance or inconvenience to any other person."