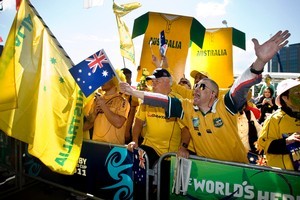 The Wallabies received a better welcome at their official capping ceremony yesterday evening, compared with earlier in the day when schoolchildren had to be brought in to bolster a tiny welcome at Auckland International Airport.
Several hundred fans came out to Aotea Square to watch their team get their official Rugby World Cup caps.
A number of people were armed with Australian flags, while others proudly showed off their yellow shirts.
But others were clearly more interested in the drag queens performing on stage before the team arrived.
As the Wallabies' bus pulled up, hundreds of fans rushed to the barriers to see their favourite players.
Bad-boy Quade Cooper proved to be a hit, with people calling his name and phrases like: "We love you, Cooper!"
The player looked slightly mortified but smiled shyly and gave a small wave.
Captain James Horwill thanked the crowd for coming out to support the Aussies and said they were looking forward to playing some footy.
He acknowledged the traditional Maori welcome and the kapa haka group who performed, calling them "impressive".
"I'd like to thank the City of Auckland ... It's been an unbelievable response," he said. "We're very excited for our first game on Sunday out at North Harbour stadium."
Friends Adrienne Tonga and Betty Tafa-Soliai were there for only two reasons: to see Cooper and winger Digby Ioane.
When Ioane finally came around to sign their flag, they proudly told him: "We waited five hours just to see you!"
Ioane responded by doing a dance for the pair.
The official welcome was vastly different from the team's arrival at Auckland airport earlier in the day.
While thousands of screaming fans turned out for the Tongan team the day before, the Wallabies' welcome party was dismal - only a few hundred people showed up.
Among the fans were pupils taking part in a nationwide campaign to adopt a second team.
Mangere's Robertson Rd Primary School made up a large portion of the crowd there to welcome the Tri-Nations champions.
Tyaaroa Leniu, 12, said the school did not choose Australia because they wanted them to win the World Cup but because they were our closest neighbour.
He said Australia's Kiwi-born players should come back to help the All Blacks with their World Cup campaign. "We should bring them back and we'd win the World Cup for sure. [But] Dan Carter's still the best."
Australia's first game is against Italy on Sunday at North Harbour Stadium.