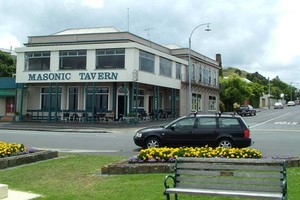 Community groups and the Historic Places Trust face a huge claim for costs from the developer who wants to turn the Masonic Hotel Tavern in Devonport into apartments and a cafe.
Redback Develop has asked the Environment Court to award costs of $238,571 that it spent on fighting a challenge to its resource consent.
On July 29 last year, the court confirmed the consent, which was issued by the former North Shore City Council in April 2009.
The Masonic Friendly Society and Devonport Heritage appealed because they believed the front of the 1860s hotel would be largely rebuilt and original parts would be demolished. Two neighbours of the hotel also appealed.
The trust was a party to an appeal lodged by Redback to alter a condition of consent requiring continuous presence of a heritage architect while demolition was undertaken, should archaeological evidence be revealed.
None of the parties would comment yesterday on the prospect of sharing the developer's costs.
Trust spokesman John O'Hare said submissions had been made to the court and a decision was awaited.
In July, the Auckland Council withdrew a $106,500 claim for costs against the community groups and the trust.
This followed a 10-8 vote to accept a motion from Heritage Forum chairwoman Sandra Coney.
She said Auckland needed passionate community groups to defend heritage and pursuing them for costs would be futile because they could not pay.
Auckland Council and North Shore City spent $322,838 on the court defence of the Redback resource consent.
The developer's website is advertising apartments for sale at the 29 King Edward Parade address but demolition work has not started.
Auckland heritage campaigner Allan Matson said the threat of having to pay huge costs for a failed appeal was a serious concern.
"I'm conscious of doing it on slim resources so I can't afford to have costs awarded against me. I understand the risk if you get in the firing line and you lose."