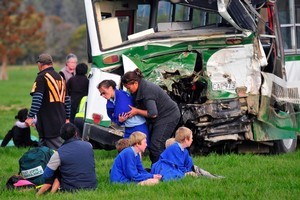 A school bus crash that left 35 children injured - including the driver's granddaughter - in Bay of Plenty yesterday has sparked calls for greater policing of logging trucks.
Six children were seriously injured after an unladen logging truck crashed into the rear of a school bus that was pulling over on the side of a road in rural Ruatoki, south of Whakatane, at about 3.30pm.
Witnesses have described a scene of chaos with injured children and upset adults scattered across the grassy paddock where the smashed vehicles came to rest.
Most passengers were young children from the nearby Taneatua School, while others were older children from Trident and Whakatane High schools.
An 8-year-old girl - reported to be the bus driver's grand-daughter - was today in a critical but stable condition in intensive care at Auckland's Starship Hospital, while a 6-year-old girl was in Rotorua Hospital in a comfortable condition.
The 41-year-old truck driver and two other children, aged 10 and 12, were in a comfortable condition in Tauranga Hospital, while four others, two aged 10, one 5 and one 16, were "doing great'' in a Whakatane Hospital ward, a hospital spokeswoman said.
The rest of the injured children have been discharged.
The accident was the second in a month for the small rural Taneatua School, after a 5-year-old student was struck by a car after getting off a school bus in Ruatoki Valley Rd in August.
Principal Rob Shaw, who arrived at the crash soon after it happened, said it was "quite a scene''.
"There were a lot of very traumatised children with some quite serious injuries,'' he told Radio New Zealand.
Mr Shaw said the truck had ploughed into the back of the bus and left "not much room for passengers'' at the back.
He praised the bus driver for taking control of the bus, saying there could have been multiple deaths if the bus had tipped over.
Mr Shaw called for greater policing of trucks around schools, saying drivers needed to be aware of the hazards of children getting off buses.
The number of logging trucks in the area had grown over the last three years and promises had been made to keep the speeds down.
Mr Shaw said up to eight or nine big trucks passed the school on State Highway 2 between 3pm and 3.15pm every day.
"Some are very good, some aren't. Some speed, and I don't know what to do with it,'' he said.
"They all know that school buses are on the road between 3 and 4 o'clock in the afternoon in our area, and I think they just have to be alert to that.''
Transport Minister Steven Joyce today said the accident was tragic, but would not commit to changes such as compulsory safety belts on school buses.
"Obviously it was a tragic accident yesterday and we've just got to wait and give the police serious crash unit an opportunity to investigate what actually happened and how the accident occurred,'' he said.
"Historically we've had a very good safety record with buses in New Zealand. The last fatality of somebody on a bus was 1998, so that's 13 years ago, so I think we've got to wait ... for police to come up with their answers.''
Mr Joyce said it was too early to comment on whether logging trucks should be banned from school bus routes between 3pm and 4pm on school days.
"I think that would be hard to make an argument that it would be any more or less safe between 3 and 4 or 4 and 5 or in the morning or at other times, so let's just wait and see what the police have to say.''
Rural Women executive officer Noeline Holt said school buses were still the safest way for children to travel and the biggest hazard was children getting off buses.
"Those figures, injuries and deaths, haven't changed in 30 years,'' she told APNZ.
She welcomed Mr Joyce's recent decision to extend the 20km/h speed limit when driving past school buses to 20 seconds before and after a school bus had stopped, if the bus was displaying a flashing sign.
Ms Holt said awareness was the biggest issue.
"We hear about the mortalities, but the problem is we don't hear about what happens when the kids are injured and that they live a life in a very disabled state.''
Ms Holt said the group had looked into compulsory safety belts in the past but there were issues around getting children to wear them.
Bus drivers also had concerns with giving the wrong impression when doing up a seat belt on a young child's lap.
Log Transport Safety Council chair Warwick Wilshier said the crash was "an absolute tragedy'' and his thoughts were with the children and truck driver.
"Obviously we're very concerned, we're in shock, and so once we understand what caused this accident we'll obviously see if there's anything to be done to make sure it doesn't happen again,'' he told Radio New Zealand.
Mr Wilshier said the council had done a lot of work over the years to educate drivers to consider and be aware of other road users, particularly in rural communities.
In extreme conditions, particularly one-way roads, radio communication between school buses and truckers was an option.
Truckers travelled the same roads every day so they were generally familiar with school timetables.
Mr Wilshier said truckers were professionals who were expected to comply with road rules.
"There's nothing to be gained by travelling fast in our industry. We have a day's work to get done and by speeding it's not going to make an extra load a day. So no, there's definitely not that pressure at all.''
Eastern Bay of Plenty area commander Inspector Sandra Venables said today it was still too soon to speculate on the cause of the crash and the investigation could take up to a month.
"There is a great deal of work that needs to be done in the coming weeks. Obviously this was a serious incident and we need to ensure that our investigation is thorough and robust in the same way we would with any other crash.''
Staff would today continue to examine the scene and interview passengers and witnesses.
Ms Venables said significant testing and forensic work on the vehicles and the scene was already underway.
Police would also continue to focus on working with the students, family and schools involved in the crash.
"Unfortunately there are still some children who are still in hospital, some with serious injuries, but at this stage I think we are all grateful that it wasn't so much worse,'' Ms Venables said.
"Our thoughts go out to everyone who has been impacted by the crash and they should rest assured that we will ensure that the circumstances of the crash are fully investigated.''
Ms Venables said she was grateful for the "remarkable effort'' the local community had made.
Transbay Coaches' director Justin Allan said the company was also determining what happened.
"As far as we can make out, the bus was on its regular school run. It appears that it was pulling over to drop students off when the logging truck impacted with it from behind,'' he told Newstalk ZB.
He said the 41-year-old bus driver had worked for the company for a number of years, and was upset by the incident.
Passenger Jody Rua, 15, was about to get off the bus when the crash happened.
He told Radio New Zealand he saw his peers jumping out windows to escape.
"I thought about it for a second but then I saw the little kids and that, so I just thought I might as well help them try to escape. And then all the injuries I saw was shocking.''
Rua said the bus door was open so he and the bus driver helped injured children, many of them his friends, off the bus.
"I was freaking out when I saw how gruesome and bad it was, and they couldn't even see or feel anything that had happened to them. They were just walking around clueless.''
Trident High School principal Peter Tootell said eight students from the school had been on the bus and none had serious injuries.
School bus crash casulaties 1980-2010:
* Seven passengers killed, most recently in 1998
* One driver killed, in 1987
* 55 passengers seriously injured
* 215 suffered minor injuries
* 12 drivers seriously injured
* 55 suffered minor injuries
* 75 per cent of all fatalities occur in 100kmh areas
What the rules say:
* Vehicles must slow to 20kmh when passing a school bus
* School buses may have flashing lights when stopped, but they are not compulsory
* Buses under 3500kg, built since October 2003, must have seat belts
* Seat belts are not required for larger buses, but must be worn if provided
* There is no requirement for children to be seated on buses
* The Ministry of Education, which contracts most school buses, sets minimum safety criteria
- APNZ