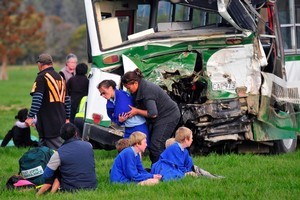 The cause of a horrific bus crash that left 35 children injured in the Bay of Plenty yesterday may not be known for at least two days.
A police commercial vehicle investigation unit would today try to determine exactly what caused an unladen logging truck to crash into the rear of a school bus that was pulling over on the side of a road in rural Ruatoki, south of Whakatane about 3.30pm.
The crash left 35 children injured, six seriously, and was a scene of chaos with injured children and upset adults scattered across the grassy paddock where the smashed vehicles came to rest.
A 8-year-old in critical condition has been transferred to Starship Hospital, while a 6-year-old girl in Rotorua Hospital was today in a satisfactory condition, a spokeswoman said.
Staff did not know when she would be discharged.
Eastern Bay of Plenty area commander Inspector Sandra Venables said today it was still too soon to speculate on the cause of the crash.
"It's just simply unknown for us at this point in time,'' she told Radio New Zealand.
Police would know more about exactly what occurred within a couple of days.
Staff would today continue to examine the scene and interview passengers and witnesses.
Ms Venables said she was grateful for the "remarkable effort'' the local community had made.
"I'm sure that they assisted all of those children and prevented them from being even worse off than they were,'' she said.
"It's a really tight-knit community and we're going to be continuing to provide support for both the families and that local community today.''
Ms Venables said it was not very often there were a lot of injured people at one crash site.
"It was chaotic out there but the emergency services, all of them combined and the community, did a wonderful job getting everything in control.''
Ms Venables said her thoughts went out to the families of the injured and she was thankful the crash was not worse than it was.
Passenger Jody Rua, 15, was about to get off the bus when the crash happened.
He told Radio New Zealand he saw his peers jumping out windows to escape.
"I thought about it for a second but then I saw the little kids and that so I just thought I might as well help them try to escape. And then all the injuries I saw was shocking.''
Rua said the bus door was open so he and the bus driver helped injured children, many of them his friends, off the bus.
"I was freaking out when I saw how gruesome and bad it was, and they couldn't even see or feel anything that had happened to them. They were just walking around clueless.''
Transbay Coaches' director Justin Allan said the company was also determining what happened.
"As far as we can make out, the bus was on its regular school run. It appears that it was pulling over to drop students off when the logging truck impacted with it from behind,'' he told Newstalk ZB.
He said the 41-year-old bus driver had worked for the company for a number of years, and was upset by the incident.
The truck driver, who was flown to Tauranga hospital yesterday, was monitored overnight and is expected to be released today.
The bus was carrying students from Trident and Whakatane High schools and primary students from Taneatua. All are from the Ruatoki Valley area.
Rotorua, Tauranga and Whakatane hospitals have treated injured passengers.
Trident High School in Whakatane will explain the crash to their students this morning in a full school assembly.
Principal Peter Tootell said the school's crisis team, made up of guidance counsellors and senior staff, would meet this morning.
Eight students from the school had been on the bus and none had serious injuries, he told Radio New Zealand.
"There was good whanau support with them at the hospital last night and whilst one or two of them have broken bones, there were one or two with minor injuries and they were fixed up and sent home last night with their families.
"Others were waiting to have x-rays and no doubt will end up in plaster or may have been kept in overnight.''
He said the school would continue to monitor the students' recovery through the families and the hospital.
- APNZ