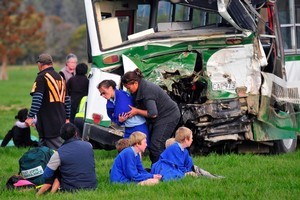 A schoolbus driver started yelling, "s**t, s**t", as a logging truck loomed in his rear-vision mirror, leaving him helpless yesterday to avoid a crash which left "blood everywhere".
An 8-year-old girl - one of 35 children injured - remains in a critical condition in Auckland's Starship hospital after the unladen truck slammed into the rear of the bus, which was pulling over on a road in rural Ruatoki, about 20km south of Whakatane, about 3.30pm.
The bus and the truck cab crashed about 100m into a paddock, while the trailer lay wrecked on Reid Rd.
The impact flung 15-year-old Jody Rua from one end of the bus to the other. Shaken, he set to work helping injured children, aged 5 to 17, from Taneatua Primary School, Trident High School and Whakatane High.
Most of the 35 children on the bus were taken to hospital, some with serious injuries.
The truck driver was airlifted to Tauranga Hospital and last night was in a stable condition. The bus driver escaped serious injury.
Jody said the bus was slowing down to drop him off outside the driveway to his home. "Then there was just a big bang and the logging truck had rammed us into the middle of the paddock," he told the Herald last night.
"As we were pulling over slowly, the bus driver started saying, 'S**t! s**t!' and the logging truck just smashed into us from behind.
"I was at the front, waiting to get off, then when it hit us, I went flying backwards. I opened my eyes and it was really quiet, then everyone started crying."
Everywhere Jody looked, children were bleeding and crying, and pieces of the bus and truck were strewn across the paddock.
"Some of the kids looked like they had been attacked by sharks. The kids were just cut up in pieces - most of them couldn't feel it and were walking around. I was just freaking out looking at them. There was a girl in the middle of the road with shark-bit legs."
Jody said he instinctively went to help other children to get off the bus.
"I gathered the kids who weren't injured together and then there were a few kids who were trapped in their seats, so we helped get them off."
One boy from Taneatua Primary was hanging out of a window, begging for someone to help him. "He was completely cut up. I tried to help him, but I didn't know what to do."
Jody then ran across the road to get a first-aid kit from his aunt's house. "I just did what I could, but there were lots of people who were helping out."
Another schoolgirl, Hinemiaharo Carroll, told the Herald how there was "blood everywhere" when she got to the wreck.
At a press conference last night, Inspector Sandra Venables, the Eastern Bay of Plenty area police commander, said 36 people received medical treatment in Whakatane, Rotorua and Tauranga hospitals. The injuries ranged from minor to critical. The critically hurt 8-year-old was shifted from Rotorua Hospital to the Starship in Auckland.
A 6-year-old girl who was seriously injured is now in a stable condition in Rotorua Hospital.
Ms Venables said the cause of the crash was not yet known. "We will not be speculating on the potential causes ... until the investigation is complete.
"Many members of the local community were on the scene immediately and responded quickly to provide first-aid and assistance. It is a very close-knit community and their efforts this afternoon were remarkable and much appreciated by emergency services."
Urikohu Teepa, 16, who lives nearby, arrived to find many children crying and injured.
She stayed in the back of an ambulance comforting a 17-year-old friend who received back and spinal injuries. That girl's younger brother also suffered injuries to his head and leg after being nearly thrown through a window. "I went straight down there and I just saw everyone ... All of our family was there ... and they were all in tears and in shock."
Taneatua fire chief Laurance Richardson said that "by the time we got there, all of the kids who could get off the bus were off and were sitting in the field waiting to be helped. Then we got to work helping to get the others off."
The children not taken to hospital huddled with their parents under blankets while paramedics treated them.
One father sat cradling his 6-year-old daughter, whose face was caked in blood.
"She's fine now, she's pretty tough. She's got a sore leg and she's been pretty quiet and letting us know what's wrong with her body."
Two of his other children, aged 9 and 10, were also on the bus.
"As soon as we heard about it, we were here... [They're] all pretty traumatised by what's happened... We are just thankful that they're okay."
Most of the children were admitted to Whakatane Hospital, 25 with minor injuries.
Transbay Coaches director Justin Allan said the bus driver was extremely shaken up. "Physically, he wasn't badly injured at all, but as you can imagine he's quite upset about what happened."
The driver was a local who was "very experienced" and had worked for the company for a number of years.
The 41-year-old truck driver was flown in the TrustPower TECT rescue helicopter to Tauranga Hospital, where he was in a stable condition last night.
Chopper pilot Todd Dunham said the driver received serious multiple injuries but was still conscious.
"He was mumbling a little bit, although he was in a lot of pain and had a lot of painkillers put through him. Looking at the state of his truck, he was a very lucky person."
Mr Dunham said it was like a war zone when the chopper landed.
"People were everywhere - it looked like there was a hundred of them [the injured]. Police and people from the community were running around with blankets - it was controlled mayhem in a lot of respects.
"You've got to take your hat off to the police, the Fire Service and St John - there were so many people involved and, as you can imagine with children involved, a lot of stressed people and grief, and they handled it well.
"It's something I don't think I'll ever see again and I hope I don't. It'll stay with me forever."
- additional reporting Nicholas Jones