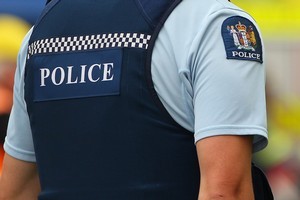 Police chiefs have promised enough staff to cope with "business as usual" despite 400 officers patrolling Eden Park and Auckland's fan zone on game days.
Superintendent Brett England said frontline and investigative squads would remain fully staffed during the tournament and leave restrictions would mean more officers were available to cope with tens of thousands of fans.
"We're going to police the tournament without disrupting our business as usual," said Mr England.
More than 400 staff will police Eden Park and the fan zone for Friday night's opening match and subsequent game days, said Mr England.
That includes 246 staff at the stadium, 69 of whom are contingency staff who can be deployed to the rest of Auckland.
At Queens Wharf there will be two shifts of 78 staff each. That figure will be reduced to 52 on days when matches are not scheduled but Mr England said police would have a strong presence downtown every day.
"We've never treated the fan zone as just Queens Wharf. It's the new Wynyard Quarter, all along the Viaduct, not to mention the walking track [to Eden Park]."
He said more staff would be added to patrol the other official fan zones in Albany (60), Waitakere (57) and Mangere (40), which open the week of the bronze final playoff in mid-October.
Not that the police want to be party poopers.
"We're hammering home with staff the importance of friendliness, talking with people and not being aloof. We're there to ensure people have a good time and don't overstep the mark."
The test will come on Friday night when the waterfront heaves with up to 50,000 people and 60,000 fans at Eden Park. Police are also providing security for the Pacific Islands Forum at The Cloud on Queens Wharf this week, culminating with 22 IPP (International Protected Persons) watching the All Blacks play Tonga in the tournament opener on Friday.
"It will be an extremely busy night for us. The first weekend is our crunch weekend. Then we tail off for four weeks. Another 300 VIPs - mainly IRB hierarchy and international rugby officials - will be protected by security hired by Rugby World Cup 2011 over the duration of the tournament.
Mr England said one of the most important changes was the culture of policing rugby games.
"Once upon a time, it was a bit of a perk to police the rugby. Staff would watch the rugby and that's it," said Mr England. "These days we've completely changed. We are there to police a crowd and police the alcohol. We've had to change our culture as a result."
Inspector Jim Wilson is the man in charge of Eden Park and said an officer was assigned to each of the 47 alcohol outlets at the stadium on game nights.
No alcohol is allowed in - or out - of Eden Park.
There are also 142 CCTV cameras at the stadium and nearby Kingsland train station, which feeds back to the Major Events Operation Centre in an Auckland Council building downtown.
There, Mr England will be bunkered down with other government, transport and council officials to identify any troublespots.
Mr England was also in charge of police when the British and Irish Lions toured New Zealand in 2005. He said the Barmy Army were well behaved during their time in Auckland - despite losing the series 0-3 - with just one arrest.
He expected a similar, fun, carnival atmosphere in the Rugby World Cup.
"After the [Lions tour] games I used to go down to the Viaduct and everyone wants to shake your hand and tell you what a great time they were having. I'd love to see that again."
FANS WARNED TO BE WARY
While good behaviour is expected from most of the expected 95,000 tourists here, police are warning rugby fans - international and local - to be vigilant.
"There's always opportunists. People will come to where the crowds are, do some shoulder surfing and crimes like that," said police spokeswoman Noreen Hegarty.
"Credit card fraud will be a big one."
Shoulder surfing is when criminals stand near people entering their credit or eftpos card details and write down the Pin before pickpocketing the card.
Most offenders caught doing this in New Zealand are "crime tourists" from Romanian crime syndicates.
"We've caught a lot of them and the word is out internationally that we're not an easy touch," said Ms Hegarty.
"People have to be vigilant."
Police are also aware of the possibility of fake tickets being sold to popular games.