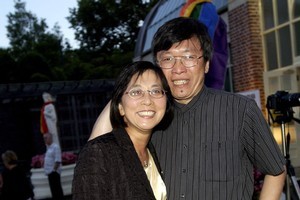 Opposition leader Phil Goff says it is "not credible'' Sammy Wong, husband of former Cabinet minister Pansy Wong could not recall a trip for which he claimed a $1520 taxpayer-funded rebate.
Auditor-General Lyn Provost yesterday released a report on the Wongs' use of parliamentary travel perks initiated after Labour's Pete Hodgson came forward with new information which appeared to contradict what the Wongs told a previous Parliamentary Service inquiry.
Ms Provost's report found two instances where the Wongs had claimed travel rebates they were not entitled to. One of those had been previously discovered and the $475 involved was repaid about the time Mrs Wong resigned from Parliament late last year.
However, Ms Provost also found that Mr Wong's June 2008 trip to Lianyungang, China, where he had an interest in a hovercraft factory, "was for private business purposes" and a rebate of $1520.25 "should not have been claimed".
During the inquiry Mr Wong had told the Auditor-General's office "he had no specific recollection" of the June 2008 trip. In fact, Mr Wong did not include the trip at all in a sworn affidavit he provided to the earlier Parliamentary Service investigation conducted by former public servant Hugh McPhail.
"I don't think it is credible'', Mr Goff told reporters this morning.
"It was never disclosed to the McPhail inquiry. The McPhail inquiry was flawed in that it simply accepted his word on everything.''
Ms Provost's report had upheld the fact that Mr Wong had used taxpayers' money on the June 2008 trip, "and that money should be repaid''.
In her report, Ms Provost recommended the Parliamentary Service "consider what steps it needs to take to correct this situation''.
Parliamentary Service manager Geoff Thorn said his department was considering Ms Provost's report before taking action although that might include asking the Wongs to repay the outstanding amount.
Ms Provost said her office had been able to use detailed diary entries provided by Mr Wong's former business associate Stephen Preest that showed "Mr Wong was in or around Lianyungang and involved in detailed business activity for these two weeks".
Mrs Wong said her husband had relied on information received from the hovercraft company to ascertain the dates that he visited there.
She hoped "any mistake made was unintentional".
Ms Provost said her office's investigation "did not reveal any pattern of wrongdoing by Mr or Mrs Wong".