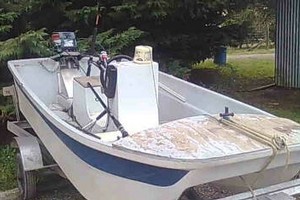 A man-made lake where two fishermen have been missing for more than a week will be lowered on Wednesday.
James Roberts, 45, of Pukeatua, and Jordan Pooley, 21, of Tokoroa, have been missing since Sunday last week, when they went fishing in a small boat on Lake Arapuni - which was formed as part of a hydroelectricity scheme on Lake Waikato.
The search has been widening, with about 10 boaties and a private helicopter aiding police yesterday, but by last night there was still no trace of them.
Police today said a search would continue for another two days.
Inspector Steve Bullock said it would move into a "new phase" on Wednesday when the water level is lowered by Mighty River Power.
"While the level of the lake is lowered, we will be undertaking water, land and aerial searches of the area."
Clothing which may belong to the missing men may have been recovered by search teams, Mr Bullock said.
"If so, this could help us to narrow down the search area."
Mr Bullock earlier told RadioLive the lake was too large for divers to search every centimetre.
"We've got a couple of options available to us but we'll probably use police divers or else the navy have some sonar equipment," he said.
"But without a narrowed area of focus, we are unable to use either of those."
Cambridge man Mike Southward, who made an hour-and-a-half-long flight over the lake in his helicopter yesterday morning, said the lack of clues had left searchers baffled.
"It's kind of strange. People always put stuff in their boats and you'd expect something would be floating on the surface, whether it's a cushion or a fuel tank. Everybody's got lots of theories."
Mr Southward said the length of the lake was flanked by farmland, and the two men would not have had to walk far to seek help if they had made it to shore.
"It's just very unusual that there's no conclusion. We've now exhausted everything that we can do and it's up to using sonar. That will then find the boat or it won't."
Police have been speaking to local residents and the search team will re-evaluate the situation today.