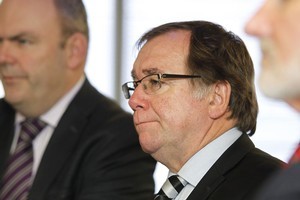 Foreign Minister Murray McCully opened a Pacific conference today with some shocking statistics about the education failings of the Pacific region.
A million school-aged children around the Pacific do not go to school at all.
He said around 40 per cent of school children in Pacific Island countries do not complete a basic primary education, and only 20 per cent graduate from secondary school.
Girls have real issues with access to the formal education system in several countries.
"These are facts that the Pacific cannot afford," McCully told a symposium 'Realising the Pacific's Potential' in Auckland, being run by the Sydney-based Lowy Institute and Motu policy group.
It is being held ahead of the Pacific Islands Forum leaders' summit in Auckland on Wednesday and Thursday.
He said the time had come for everyone in the region to get serious about both the challenges and opportunities confronting the Pacific.
"We need to get out of 'business as usual' mode and get serious about tackling the issues that have attracted a good deal of talk at regional meetings in the past but too little action and follow-through afterwards."
He said he wanted the Pacific leaders' summit to be a practical event "with concrete, deal-producing outcomes."
McCully outlined what he saw as the main drivers of economic growth in the region: tourism, fisheries and agriculture.
The global cruise industry was expanding fast into the Pacific. In 2013 around 120 cruises were expected, carrying 375,000 passengers who would be going into ports, going on tours and spending money right around the region.
But growth in tourism was constrained by major obstacles: air services had declined and lack of investment in airports, runways, wharves and cruise facilities constrained transport services that were the arteries for tourism and trade.
Poor regulatory and governance arrangements in some countries diminished confidence of investors to commit the resources that were needed.
McCully announced that New Zealand would be contributing $8.9 million over the next five years to strengthen public financial management in the Pacific through the Pacific Financial Technical assistance Centre, PFTAC.