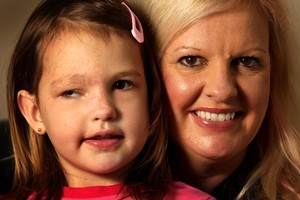 Fundraising for a little girl booked in for a life-changing operation overseas this month has hit a hurdle as the Rugby World Cup pushes up airfares.
But Zahnee Campbell's family are confident they'll raise the last $10,000 before they can board their flight to New York in three weeks.
The Papamoa 5-year-old has a rare facial vascular hemangioma tumour, an external and internal birthmark, which came from behind her right eye days after birth and is thought to be the only one of its kind in the country.
Her sight has deteriorated, affecting co-ordination and causing headaches and painful pressure on her shoulders.
The procedure Zahnee needs isn't done in New Zealand, forcing her family to travel to the United States for treatment by a leading ophthalmologist, costing at least $50,000.
Mother Jade Riley said the bill had moved closer to $60,000.
"[Flights] are more expensive from all the people coming for the World Cup. We also have to see the surgeon before the operation, which costs about $540. It all really adds up."
The family have raised most of the money themselves, but other people have helped, including one generous Herald reader who donated $10,000.
Ms Riley had hoped for help from a special state health fund, but was told last month her application had failed.
She hoped to sell the remaining 1200 of 2000 cooking books she has produced and is selling at $5 each.
Donations can be made to account 12-3217-0140729-00, or send an $8 cheque to Cook Book, PO Box 11186, Papamoa 3151. Facebook site "Zahnee's Cause".