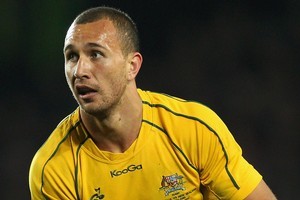 Expat New Zealanders playing in the World Cup for other nations could fill two full teams - and still have five bench-warmers a piece.
There is so much expat talent that the Herald has picked a squad dubbed The Exports.
An analysis of the 20 World Cup team profiles reveals 40 players born here who have chosen to represent Japan, Canada, England, Ireland, the United States, Tonga, Samoa, Fiji ... and even Australia.
Fiji boasts three players including captain Deacon Manu, who played in the historic 2005 NZ Maori team which beat the touring British Lions. His mother is Fijian.
The count does not include players such as Australian-born Ryan Nicholas, a Tauranga Boys' College old boy. The former Highlander also wore black for New Zealand Maori but has represented Japan since 2008.
Two Auckland-born wingers, brothers Michael and Sailosi Tagicakibau, face off against each other when Fiji and Samoa meet in pool play.
Pacific nations, such as Tonga and Samoa, have high numbers of New Zealand-born players. Seventeen of Manu Samoa's team were born here.
They include James So'oialo, the younger brother of former All Black Rodney So'oialo, and fullback Paul Williams, son of All Blacks great and New Zealand Rugby Union president Bryan Williams.
Tokoroa also rates a mention. Outside the big centres, the town must beat all other comers in producing quality players.
Two current All Blacks - Richard Kahui and Keven Mealamu - hail from Tokoroa as well as Isaac Boss, of Ireland, and Fiji's Nicky Little, the nephew of All Black midfield back Walter Little.
And then there's Quade Cooper.
Love him or hate him, the 23-year-old is Kiwi-born, raised in the south Waikato forestry centre before his family moved to Australia in his early teens.
Dual code international Shontayne Hape, a former Warriors winger, will wear England's red rose for the series.