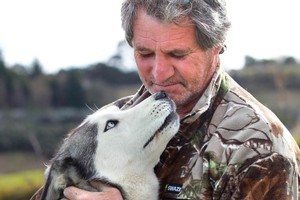 Jared Dunn should be terrified of dogs after twice being attacked - but the 11-year-old's dad says he still loves them.
Jared and his mother were walking their two dogs when he was allegedly attacked by his neighbour's Siberian husky.
The 3-year-old dog, Sky, had escaped a death penalty after attacking and killing a kitten just a month earlier. But she was legally required to be muzzled in public.
This week, Sky's devastated owner talked to the Herald on Sunday to plead for his dog's life.
Colin Andrew, aged 60, appeared in the North Shore District Court where he denied charges of owning a dog that attacked a person, and failing to muzzle his dog.
Sky had been classified as menacing, after leaping off the back of a ute and killing a kitten in January.
A month later, Sky was outside and unmuzzled on Andrew's property in the semi-rural suburb of Riverhead, when Jared and his mother walked by.
Auckland Council dog control officers say Sky ran on to the road and launched herself at Jared's two dogs.
But the dogs ducked behind Jared's legs, and Sky allegedly bit Jared instead.
The court documents say Jared's mother, Briar, kicked Sky to get the husky off her son.
He escaped with a puncture wound to his leg that needed four stitches.
Jared's father said it was the second time his son had been attacked by a dog, but he still loved animals.
"He's a pretty tough kid," Nigel Dunn said this week. "He's all right and has no issues - there is no fear of dogs.
"Both dog attacks were instantaneous, both times he didn't know he would be bit until he was bitten, and if you know you are going to be bitten that is when there is that fear factor."
Dunn said the relationship with his neighbour had turned sour and there had been heated arguments since the alleged attack.
"I have to live with these people; they live no more than a stone's throw away. The law has to do their job and we have to stay right away from it."
But Andrew told the Herald on Sunday the charges were "a pack of lies" and it wasn't fair to kill the dog he had owned for three years.
"It's not an attack on a child," he said.
"There were two other dogs at the same place and all she was doing was going to see what they're doing and it all got tangled up and the resulting thing was a scratch on the kid's legs and that's about it.
"It's absolutely ridiculous to put a dog down for that; it's unbelievable."
Andrew said Riverhead residents were so worried about the dog's fate they had written letters to the council describing her placid nature.
"Half of Riverhead doesn't want to see her destroyed. We've already had petitions; people have written letters for her, for me to give to the council. She plays with their kids - she has in the past but can't do it now."
Andrew will appear in North Shore District Court in January for a defended hearing.