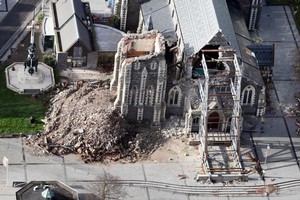 One year ago today at 4.35am I was woken in my hotel room, seven storeys high in Christchurch's Cathedral Square, by the biggest earthquake I had ever experienced.
I had flown down to Christchurch for just 24 hours, landing in sleety showers. By evening the skies had cleared and frosts were developing.
Several hours later the quake hit - and I remember it vividly, as if it was yesterday. I could feel my hotel tipping over, then swinging back. The windows close to exploding, lightning flashing from the ground and that terrifying, minute-long rumble.
I remember thinking my time was up. I couldn't even move to a doorway, and if I could would it help me if the building fell down? I won't say my life flashed before me, because it didn't. I just thoughts of loved ones and how much of my life I had wasted in sadness since my marriage ended a few years back. "Time to make a fresh start if I survive this," was something that flashed through my mind. "I'm not wearing enough clothes to run out of my hotel room," was another.
And then it was silent. Well, almost. The building continued to sway for several minutes. All I could hear was the sound of glass windows grinding against metal frames. The eerie sound haunts me to this day. As does the sound of the cathedral bells clanging for several minutes, all out of time.
I had no idea a huge portion of downtown Christchurch had collapsed until I left the hotel at 6am. I walked around in amazement, fielding non-stop calls from the media. I was one of the lucky few who caught a flight out of Christchurch that afternoon.
Since being in that quake, I have a new-found love for Christchurch, a city I hadn't connected with before. I have been back several times to document its progress.
The point of my 24-hour trip to Christchurch was to meet my colleague, Richard Green, and work with the Radio Network to set up forecasts for Christchurch. That project has been on hold since.
It has been a long, unkind year for Christchurch and surrounding communities. My thoughts today are with everyone in the city, across Canterbury and those affected not only by the September 4 quake, but also what it unearthed six months later.