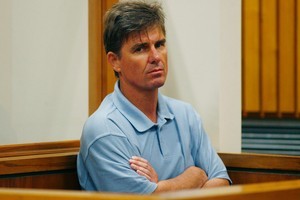 Escaped prisoner Lex Miller is now back in police custody after being apprehended and arrested in Gisborne last night.
Miller - who esaped from Rangipo Prison on August 25 - was spotted at a Gisborne campground by an off-duty police officer who notified local police, according to Bay of Plenty District Crime Manager, Detective Inspector Tim Anderson.
Detective Inspector Anderson said Miller eventually gave himself up to police after being surrounded while he was inside in a vehicle at the campground.
"Obviously we are very pleased to have Miller in custody. The crime for which he was originally imprisoned was serious, cold and calculated, and we had concerns for the safety of certain individuals who were associated with the case.
"While we didn't have concerns for the wider public, he was considered dangerous."
In 2008, Miller was convicted in the High Court at Rotorua of attempting to kill his wife.
The pair had been separated for six months when he kidnapped her and gassed her in her car.
He had hidden in her vehicle until she had finished work, then bound her hands and feet with tape. He had planned to kill himself at the same time, but left when his eyes began to hurt.
His wife was able to free herself by using her feet to retrieve a pair of nail scissors from the glove box, sat on them to hide them, and finally cut her bindings after he had left.
She drove away with her feet still bound, crashed through a gate and called police.
Miller was sentenced to seven years and eight months in prison.
Detective Inspector Anderson said the search for Miller over the past eight days has proved a good example of New Zealand police working across districts.
"Since Miller first escaped, police staff from Taupo, Whakatane and Rotorua from the Bay of Plenty District, and then Gisborne police from Eastern District, have been working seamlessly on the operation.
"I have been impressed by the teamwork across the Bay of Plenty and Eastern, as teams working on the different phases during the week did an outstanding job to track and arrest a man who we considered to be dangerous."
Detective Inspector Anderson also thanked members of the community for the information provided this week.
"Police cannot operate alone, and we rely on information from members of the public to help keep their communities safer."
Miller is due to appear in the Gisborne District Court today.
- HERALD ONLINE