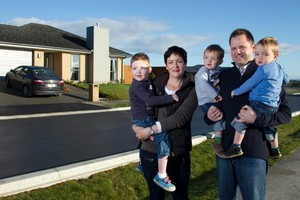 Former Aucklanders Maggie and Mark Yagmich have no regrets about moving to Christchurch, despite another couple of magnitude 4-plus earthquakes this week.
The couple, with their 3-year-old son Jack and 18-month-old twins George and Tom, were snowed in just a week after moving south in July, and then felt a succession of shakes.
Although Mrs Yagmich spent part of her childhood in Christchurch, she and her husband have no close relatives there - they left them all behind in Auckland.
But they say the move from Auckland suburb Pt Chevalier to the semi-rural new town of Pegasus, 25km north of Christchurch, is worth it.
"You have all that scenery, all that fresh air. It's a neat place to go and do things from a family point of view," said Mr Yagmich, 40.
"The kids just love it," said Mrs Yagmich, 38. "They play outside in the backyard all the time."
Mr Yagmich said the family was happy in Auckland and had not been planning to leave until he was given the chance to move from his business improvement job at Bunnings' Auckland head office to become Canterbury/Westland regional manager for The Warehouse.
"It was an opportunity that presented itself which I hadn't been expecting," he said.
He signed a contract in early February, only a few days before the big earthquake.
Mrs Yagmich said the couple "did um and ah for a long time" after the quake, but decided to go ahead with the move - partly because The Warehouse let Mr Yagmich serve his first three months with the company in their Auckland head office and then paid for him to commute between Auckland and Christchurch until the rest of the family moved down six weeks ago.
They had been planning to move into the city but after the quake chose Pegasus because it was well away from most of the damage.
"It's got a store, a cafe and a golf club and it's going to have a school," Mrs Yagmich said. "There's a lake here, we take the boys for a walk round the lake. The supermarket in Rangiora is only 10 minutes' drive away, no longer than it took to drive to the supermarket in Auckland."