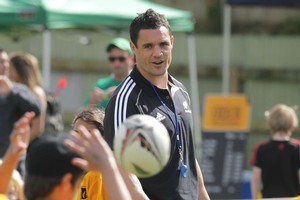 An 8-year-old boy from the Bay of Plenty achieved what the weight of the World Cup couldn't when he challenged one of rugby's most pressure-tested performers yesterday.
"Are you going to win the World Cup?", Pongakawa School pupil Rique Miln asked his All Black idol, Dan Carter.
"You have to be pretty positive, so the answer was yes," said Carter, who spent the day revving up a crowd of 3000 fans at Te Puke.
He and his team mates spent yesterday making pre-Cup promotional visits to a dozen heartland towns.
"I threw the question back at him - he wasn't quite sure after the last couple of games, so I gave him some reassurance to keep the faith and everything will be okay."
Rique won the honour of accompanying Carter, Richard Kahui and Isaia Toeava around the town as an honorary ambassador and welcomed the trio at Tauranga Airport.
While he claimed he wasn't nervous about rubbing shoulders with rugby royalty, his father Steve Miln said: "Oh, he's had some sleepless nights leading up to this big day, that's for sure."
Crowds formed around the three All Blacks as they moved about Jubilee Park taking tackling practice, refereeing ripper rugby games and signing autographs.
Young Te Puke mates Te Wheki Tai, 8, and Te Kura Biel, 10, were left with slightly big heads after they managed to duck past Carter in a ball skills session.
"Side-stepping Daniel Carter ... it was cool," a beaming Te Kura said.
They weren't the only ones to put test rugby's highest points scorer to shame - three-year-old cousins Patuara Biel and Trinanaly McCormack left him in the dust and Marshall Poutai, a client of Te Puke's Arohanui Art and Education Centre who has cerebral palsy, easily sneaked by him in a wheelchair.
"He's a big All Black fan and we were hoping he might be able to get up close and personal with them, so that was really nice," support worker Trish Watson said.