Mother's hospital bed shook during labour and little Dianthe emerged into the world six minutes later.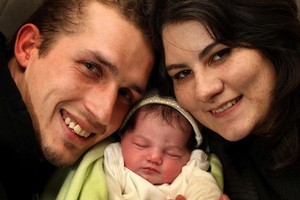 As Canterbury marks one year tomorrow since earthquakes became a part of daily life, one family will be celebrating a special birthday for their little earthquake "miracle".
Evert and Maruschke Barnard's daughter Dianthe was delivered during the 7.1-magnitude earthquake that struck Canterbury last September 4 - the first major event in what would become a year of tragedy-laden seismic activity for the region.
Mrs Barnard remembers her hospital bed swaying from side to side as she was giving birth. She had begun crowning (the baby's head emerging) when the lights were briefly knocked out. The quake hit at 4.35am, and Dianthe arrived into the world at 4.41am.
Her birth amid the chaos was described by the couple as "a real miracle". They will celebrate Dianthe's birthday tomorrow with a small party with family and close friends.
"I told Maruschke to go and buy a birthday cake, and we will put it in front of [Dianthe] and just let her go," Mr Barnard said.
Dianthe does not seem overly affected by the ongoing shocks, but her parents have noticed that she seems to have a knack for predicting them.
"She normally cries really bad right before a big one," Mrs Barnard said.
The Barnards are expecting a sister for Dianthe in about a month.
Mr Barnard: "The guys at work were saying if Maruschke goes into labour, I must let them know because they want to get out of Christchurch - they don't want [to be in] another earthquake."
Mrs Barnard was at home on Christchurch's Port Hills with her father and Dianthe when the deadly February 22 quake struck, and was terrified.
"When I got home [the house] was just a mess. I couldn't believe Maruschke and her dad and Dianthe made it out of the house," Mr Barnard said.
The family were forced out of their damaged rental home after more big shakes on June 13, and are now living with Mrs Barnard's parents in the Canterbury township of Darfield. They did not even feel a 4.9-magnitude shock early yesterday.
They had considered leaving Canterbury, but are staying put for now. But another big quake might change their minds - "I don't want to stay here and maybe lose Maruschke or Dianthe," Mr Barnard said.