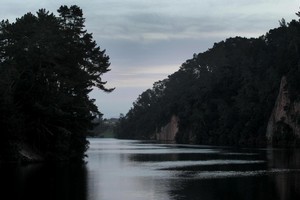 One of the fishermen missing at Lake Arapuni has been named as Jordan Keith Pooley, 21, of Tokoroa.
Mr Pooley is one of two men reported missing at the lake in South Waikato on Wednesday evening.
The alarm was raised when a dog belonging to Mr Pooley's fellow fisherman, a 45-year-old from Putaruru, turned up at his house, almost 20km away, alone.
Taupo area commander Inspector Steve Bullock said the search for the men would continue today with the Environment Waikato Harbour Master.
The two men, from Putaruru and Tokoroa, left for a fishing trip on Lake Arapuni, in south Waikato, on Sunday.
No sign of them was found in an all-day search yesterday.
Rescuers and locals are shocked something could have gone wrong on the usually tranquil lake.
A full-scale search was made yesterday morning after the dog returned home alone to Putaruru late Wednesday afternoon.
Lake Taupo Coastguard president Ian Motion said they considered beginning the search on Wednesday night but it was too dark and dangerous.
He described the disappearance as unusual, particularly as nothing had been found.
"It's quite unusual for us not to find anything, given they had equipment and a boat - usually something floats."
Mr Motion said it was the first time the Coastguard had been needed on "placid" Lake Arapuni and he had spoken to local boaties who knew the area.
It is believed the men set off in a 3m boat from Jones Landing at the northern end of the lake about midday on Sunday.
It was not known if they were wearing life jackets.
The missing 3m boat is white with a blue stripe and has a 15 horsepower Yamaha motor. The dog that was with the men is a black, white and tan beardie cross.
"The lake is a 25km long piece of water, and apart from knowing where the two men set off, we have no other information about where they had planned to go," Mr Bullock said.
The search continued all day before being called off last night.
Mr Bullock said anyone who saw the men on the lake on Sunday or Monday should call Putaruru police on (07) 883-8199.