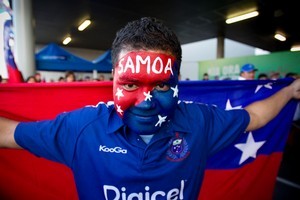 A screaming blue-and-red sea of more than 2000 fans welcomed the Samoan rugby team last night.
The patient crowd braved chilly winds and patches of rain and waited more than an hour longer than expected for the team to walk through the gates at Auckland Airport at 6.30pm. Amid chants of "We Love Samoa" and "Manu Samoa", the team appeared overcome by their reception, with many of the players filming the crowd on their cellphones.
Airport officials said it was the biggest crowd so far this week to welcome a World Cup team.
Captain Seilala Mapusua said seeing all their fans in New Zealand was "something special" and he thanked them for the welcome.
After a kapa haka and a quick speech from Mangere Community Board chairman Peter Skelton, the Samoan players did a Siva Tau war dance which was met by a large cheer.
Naked Samoans comedian Dave Fane was among the crowd.
"I'm very excited - I feel like it's Christmas, but better than Christmas," he said. "By hook or by crook, that cup's coming home with us."
Earlier, the English rugby team blew off any jet lag during a wet and wild day of sailing.
The 30-man squad raced in ex-America's Cup yachts NZL41 and NZL68 on the Waitemata Harbour in often heavy rain.
Despite arriving back in the Viaduct Harbour soaked through, Kiwi-born hooker Dylan Hartley said the team enjoyed their time on the water.
"It was quite exciting actually, we got up to some good speeds, a few of the boys were a bit scared of the water and falling in ... so it was good fun."
Hartley said of all the players the bruising centre Manu Tuilagi was probably the keenest.
"He said he'd done a bit of 'sailing' back in Samoa. And then when I dug a bit deeper it worked out he's done a bit of kayaking before. But he was pretty comfortable out there."
England flew in to Auckland on Wednesday with 10 days to acclimatise before their first game, against Argentina in Group B on September 10.
Hartley, who plays in his first World Cup, said the wait for the tournament to start was not playing on his nerves.
"I'm not really in a rush, I'm just soaking it all up."
Hartley moved permanently to England from Rotorua after an exchange trip at the age of 16, but denied that history made the location of this year's tournament extra special.
"If anything the boys probably just try to get me to be a bit of a liaison and organise things and ask me where to go. And when I can't provide things I get a bit of stick for it."
Meanwhile, about 1000 people gathered in Aotea Square to watch the official welcome for the Japanese team.
After a powhiri, the squad and their New Zealand coach John Kirwan joined dignitaries including Auckland Mayor Len Brown and IRB chairman Bernard Lapasset on stage.
Mr Brown reserved special welcome for Kirwan - "the butcher's boy from Mangere" - and urged the team to make the most of Auckland.
Kirwan said it was "fantastic to be home" and the team would be honoured to play in the "home of rugby".